Research article
Open Access
The white of the 20th century: an explorative survey into Dutch modern art collections
Received: 24 October 2017
Accepted: 4 February 2018
Published: 29 March 2018
Abstract
White pigments were abundantly used in 20th century paintings, and relate to several degradation risks such as titanium white mediated photocatalytic binder degradation or zinc soap formation. Knowledge about the white pigments that were used is essential for risk assessments of 20th century collections. In this study, a representative set of 179 paintings in Dutch modern art collections were analyzed by portable X-ray fluorescence spectrometry. Subsequent explorative data analysis was performed, supported by qualitative findings from 140 home-made reference samples. Micro-samples were further investigated by X-ray diffraction and scanning transmission electron microscopy to gain information about crystal structure and surface coating. This study reveals that Dutch 20th century artists were hesitant to use titanium white. In the Netherlands, the use of this pigment is observed convincingly from the 1970s onward and initially mostly in non-oil binders. Additionally, lead white was used until late in the 20th century for paints and grounds but rarely mixed with titanium white in paints. The study also indicated that many CoBrA artists used zinc white, underlining the risk of degradation due to soap formation. Furthermore, this study highlights the different production processes of titanium white. Through the association of titanium with niobium, an impurity only present for sulfate processed pigments, the production process can be identified. The absence of niobium indicates the presence of rutile and is thus a sign of paint stability, as well as a 'post 1959' dating. This explorative study illustrates the value of a combination of data analysis approaches, which includes assessment of spectra as well as descriptive, bivariate and multivariate analysis, for medium-sized datasets gathered at similar conditions.
Keywords
White pigmentsTiO2 XRF20th centuryModern artPrincipal component analysis
Introduction
This study investigates the use of different white pigments in the Netherlands during the 20th century. The 20th century was a century of great technological achievements, of shattering world wars and of modern art and architecture: 'art for the purpose of art'.1 Within this era, Le Corbusier popularized white in his modernist architecture of the 1920s and with Kazimir Malevich's painting "White on white" (1918), white became a defining icon of modernism. Almost simultaneously, in November of 1918, industrial production of titanium white composite pigments began in Fredrikstad, Norway [1]. Around the same time, health and safety problems related to lead white were discovered, leading to a ban or restriction (Geneva White Lead Convention) of the use of lead white for interior painting between 1905 and 1930 in most countries [2]. Although lead white was on the market (pure or mixed) in the 20th century, Bacci et al. report, based on literature, that its presence dropped from 100% in the early 20th century to 10% by 1945, and it nearly disappeared after the second world war [3, 4]. Less effective earlier alternatives to lead white such as lithopone (a co-precipitate of barium sulfate and zinc sulfide) were eventually and after heavy competition [5], replaced by the new and superior calcium based rutile titanium white [2].
Zinc white was marketed by Winsor and Newton in 1834 and was thus an earlier alternative for lead white. However, initially zinc white was not very popular. This is due to the price difference (zinc white being more than four times more expensive than lead white at the turn of the 18th century), as well as the lack of hiding power. Zinc white only became popular after 1850 [6]. After the introduction of titanium white, zinc white continues to be used as a pure pigment. Additionally, it is used in titanium white paints and colored paints to adjust the tinting strength [7].
In the early 1940s, Piet Mondriaan painted his famous Broadway Boogie Woogie and Victory Boogie Woogie, reportedly using Permalba [
8
,
9
], a renowned American titanium white [
7
]. However, Mondriaan complained about the properties of titanium white, and he is assumed to have preferred lead white [
10
]. The discussion about the best choice of white has continued since the days and complaints of Mondriaan. Present day artists still wonder and do small tests to compare paint characteristics of white paints [
11
–
13
]. The white pigments all have their specific benefits and drawbacks. Lead white oil paint is toxic but has brilliance, a nice consistence and a faster drying time. Titanium white oil paint has high opacity but is said to have a higher tendency to yellow and zinc white oil paint dries to a brittle film, although it is beneficial due to its transparency and price. Combining titanium and zinc white makes successful formulations and is often found in recipes in the United States as well as in Europe, see Fig.
1
a [
7
].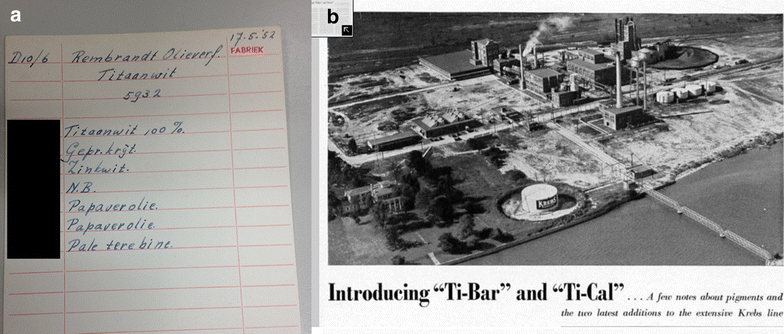 In the 1920s most commercial titanium white pigments are composite pigments from the plant in Fredrikstad or Niagara Falls, see Fig. 1b (Additional file 1: Table S1). After 1926, the production of pure anatase pigments is reported [1]. In the 1940s, surface treatments and rutile pigments enter the market, but the main pigments continue to be composite pigments until they are eventually discontinued, around 1970 [5], due to their incompatibility with water-borne paints [15].
The evolution of the use of white pigments is undoubtable country dependent, related to novel developments and patents and connected to marketed pigments as well as artist preference. While trends of white pigment use have been identified, they seem to have a geographical bias toward the United States [1, 5].
This study intends to geographically specify and extend information about the use of white pigment by non-invasive and micro-invasive analysis of 20th century paintings mainly by Dutch artists. The driving force was the need to know the extent of use of titanium white in relation to its risk of photocatalytic degradation [16–18]. The timing of titanium white becoming popular amongst artists is important, as it possibly relates to the quality of those pigments. Similarly, knowing how much zinc white has been used may help us understand and estimate the extent of the zinc soap degradation risks of modern collections [19].
In this study, portable X-ray fluorescence spectrometry (pXRF) was used to investigate the white pigments used in modern paintings in Dutch art collections. Portable XRF was chosen for its general availability (both to the authors and also increasingly for museums), for its ease of use and its completely non-invasive character. The main drawback of XRF is that the distinction between rutile or anatase pigments cannot be made [20, 21]. Furthermore, pigment coating materials, such as alumina and silica, cannot be detected. To account for the limitations of pXRF on paintings, a selection of titanium containing micro-samples are investigated by X-ray diffraction (XRD) and scanning transmission electron microscopy with energy dispersive spectroscopy (STEM-EDX).
Portable XRF, while being widely used for the investigation of paintings [21–24], should be interpreted with care as physical processes such as attenuation, absorption and matrix effects can influence the outcome. Furthermore, so-called escape peaks, scatter peaks, peaks originating from the instrument as well as overlapping peaks can complicate interpretation, which is especially challenging when investigating non-homogeneous multilayer materials such as paintings. Given these limitations, while peak areas are used to facilitate interpretation, the results of this study should be considered as qualitative, showing merely trends. A notorious difficulty, applicable to white paint, is the overlap between Ti K-lines and Ba L-lines [21]. This overlap can challenge the identification of titanium when barium is also present [7]. Hence, in this study, the applicability of PyMCA (Python MultiChannel Analyzer) [25] for deconvolution of these overlapping peaks is evaluated with self-made reference paints. As comparison of XRF spectra can be challenging, more and more accounts of additional multivariate data analysis are reported, mostly on processed data extracted from spectra (such as elemental concentrations) [26–31]. It is in this scope that, principal component analysis (PCA) has been used in this paper to enhance the interpretability of the pXRF dataset.
To summarize, the goal of the present study is to gain insight into the use of 20th century white pigments in Dutch collections. This is performed using a combination of analytical techniques and data analysis approaches, focused on the development over time rather than on singular paintings. To that end, we use pXRF on paintings and reference samples, supported by XRD and STEM-EDX on particular micro-samples. The data analysis approaches include spectral assessment, as well as descriptive, bivariate and multivariate methods. The gained insight is useful for risk assessment of paintings at modern art institutions, especially in relation to degradation phenomena occurring in paints containing the different white pigments.
Results and discussion
The trends resulting from the data exploration are discussed in relation to their impact on degradation risk and in relation to material/market knowledge acquired at several archives and in discussion with paint manufacturers. The use of white pigments in the 20th century will first be discussed based on general trends and specific artists. The results will be concluded with the identification of characteristic trace elements of interest.
Conclusions and outlook
This explorative study has provided new insights into the use of white pigments in the 20th century in the Netherlands. While pXRF is a widely used technique, it was not previously used to record and compare spectra of a large and diverse paintings dataset collected over a substantial amount of time.
Interestingly, our data has shown that the use of white pigments in the Netherlands is clearly different from the general assumption of the international use which seems to have a geographical bias toward the United States. It has been demonstrated that, instead of an immediate popularization of titanium white, the pigment entered the market rather slowly and initially predominantly in non-oil binders. The rather late rise of titanium white pigments in the Netherlands, starting from the fifties and stabilizing a secure position in the seventies, reduces the risk of photocatalytic binder degradation for Dutch modern art collections. At the time, improved pigments were on the market, thus increasing the odds that they were used in artists paints. Nevertheless, anatase was used by some Dutch manufacturers until the nineties and surface treatments were not always applied and still under development. Therefore, surveying and monitoring modern art collection for the use of potentially photocatalytically active pigments remains of high importance.
Zinc white was very popular in the mid-20th century, especially used by CoBrA artists and even lead white remained a popular artist pigment despite its known toxicity well into the 20th century. Both these pigments are not without risks either and have been reported in relation to problematic soap formation.
What is more, investigating subsets of one or more artists can provide insight into personal artist development, in terms of materials' use. This is clear for J.C.J. van der Heyden who follows the broader trend of using lead and zinc white in the fifties, zinc base paints in the sixties and titanium white based (acrylic) paints in the seventies and eighties.
Additionally, this study reveils that niobium, detectable by pXRF, may be a very useful marker to determine the production process and its absence can point to a post 1959 dating as well as to the rutile crystal structure. Rutile is considered to be more stable and is often found with a stabilizing inorganic coating. In other words, this provides an accessible, cheap and easy to use technique to make an initial classification of vulnerabilty to photocatalysis of a painting.
The trends brought about in the present study are in line with information from archives as well as the single-artist case-studies. In other words, despite the use of two instruments, the slightly different experimental conditions, the minimally restricted selection of objects and the experimental noise, this exploratorive study was useful and provided new insight. For the identification of more detailed developments in the use of white pigments, the dataset should be extended, focused on impasto areas and preferably art historically balanced. Involving more museums to gather a larger dataset of XRF spectra and metadata of white paints (or any color for that matter) would make this study more robust as a potential tool for risk analysis of the (white) paints in (Dutch) collections. Furthermore, multivariate data analysis via PCA in this study was mostly used for a visualization purpose. The dataset likely contains more information than was extracted in this study. Therefore, to answer other questions, outside the scope of this work, the dataset may be further analyzed in the future. Several options to explore are: analysis on the raw spectra rather than peak areas; analysis on each separate paint area rather than on the averaged peak areas; and other types of data analysis such as t-Distributed Stochastic Neighbor Embedding (T-SNE), independent component analysis (ICA) or non-negative matrix factorization (NMF).
Footnotes
1
A 19th Century expression related to modernism-'L'art pour l'art' in French.
2
The use of different instrument settings was an unintended error. The time between using the first and the second instrument was substantial, due to the malfunctioning of the first instrument. Since time of analysis can easily be corrected and 10 or 30 s is both appropriate for the detection of the elements of interest, changing the time from 10 to 30 s was a minor concern. Furthermore, the second instrument had a glitch and only functioned in the 40 kV, 15 μA setting. These different operating procedures are actually representative of how data would be collected at different museums in an uncoordinated/painting specific manner.
3
To return the favor of allowing us access we offered collections analysis to anser questions about specific paintings.
4
Another approach is to average the spectra prior to deconvolution. Additionally, for the future a smart averaging algorithm could be developed separating the different types of paint on one painting and only averaging those similar to one another.
5
In this study we did not quantify the layer thicknesses of our references given their qualitative assessment. Thin indicates a single brushstroke, while thick indicates an obvious impasto with a thickness in the mm range. The authors underline the value that an indepth quantified reference dataset for XRF interpretation by non-experts would have, however this falls outside the scope of this work.
6
The association of titanium and niobium has also been confirmed in the scope of another study (manuscript in preparation) by ICP-OES analysis.
Declarations
Authors' contributions
BAVD performed all experiments and data interpretations and wrote and adjusted the manuscript according to co-authors suggestions. VDB and JD supervise BAVD Ph.D. and contributed to the final manuscript. JG helped us to re-evaluate the data and clarified some chemometrical and data analytical aspects during the revision of the manuscript. All authors read and approved the final manuscript.
Acknowledgements
This work has been financially and experimentally supported by AkzoNobel and hosted by the Rijksmuseum Amsterdam. Additionally Prof. P.J. Kooyman is acknowledged for the involvement in van Driels Ph.D. research.
The cultural heritage agency of the Netherlands (RCE) and Dennis Breakmans, formally at Delft University of Technology, are acknowledged for the use of the XRF instrumentation.
The Dutch association for company art collections (VBCN, Vereniging bedrijfscollecties Nederland) is acknowledged for forwarding my analysis request to the Dutch company collections associated with them. The following collections and people are acknowledged for providing access and support during data acquisition: Sabrina Kamstra at the AMC Kunstcollectie, Hilde de Bruijn at the Cobra Museum Amstelveen, Ruth Hoppe at the Gemeentemuseum, Annelies Koldeweij at the ING Art Collection, Anita Jansen, Ron Stokhof and Mark Boers at Museum Prinsenhof Delft, Caroline Coffrie at the Bouwfonds kunstcollectie, Zeph Benders and Yuri van der Linden at the RCE collection, Colin Huizing and Marco Steketee at the Stedelijk museum Schiedam, Femke van der Knaap at Boeijink, Boekel & vander Knaap Schilderijen restautie; Lise Steyn at the university of Amsterdam (UvA) and at the RCE; Maranthe Lamers formaly at the UvA (PI student), freelancers Marya Albrecht, Jorinde Koenen, Annelies van Hoesel and Lydia Beerkens.
Furthermore we thank the RCE interns Rose Heaton, Rika Pause and Nathalie de Vries for their help during data aquisition and RCE scientist Luc Megens for his training on the XRD and many discussions about the topic of XRF. Similarly, we thank Ana Martins at the MoMA for the discussions we had about XRF and multivariate data analysis. At AkzoNobel Brenda Rossenaar and Wilma Ravesloot are acknowledged for STEM-EDX sample preparation and analysis. Arie Pappot and Rob Erdmann at the Rijksmuseum respectively helped me with the PyMCA deconvolution and the use of Python for data analysis.
Competing interests
The authors declare that they have no competing interests.
Availability of data and materials
The reference materials can be accessed by contacting the authors at the Cultural Heritage Agency of the Netherlands. The data is not accessible at the moment as agreements need to be established with the collections involved. Please contact the author to discuss this.
Ethics approval and consent to participate
Not applicable.
Funding
van Driel's Ph.D. is funded by AkzoNobel. The research presented in the paper was performed with support from AkzoNobel researchers Jan Gerretzen, Brenda Rossenaar and Wilma Ravesloot.
Publisher's Note
Springer Nature remains neutral with regard to jurisdictional claims in published maps and institutional affiliations.
Open AccessThis article is distributed under the terms of the Creative Commons Attribution 4.0 International License (http://creativecommons.org/licenses/by/4.0/), which permits unrestricted use, distribution, and reproduction in any medium, provided you give appropriate credit to the original author(s) and the source, provide a link to the Creative Commons license, and indicate if changes were made. The Creative Commons Public Domain Dedication waiver (http://creativecommons.org/publicdomain/zero/1.0/) applies to the data made available in this article, unless otherwise stated.
Authors' Affiliations
(1)
Rijksmuseum Amsterdam, Amsterdam, The Netherlands
(2)
Cultural Heritage Agency of the Netherlands, Amsterdam, The Netherlands
(3)
Materials for Arts and Archeology, 3ME, TU Delft, Delft, The Netherlands
(4)
AkzoNobel, Supply Chain, Research & Development, Expert Capability Group-Measurement & Analytical Science, Deventer, The Netherlands