Research article

Open Access
Transglutaminase-mediated restoration of historic silk and its ageing resistance
Received: 30 January 2013
Accepted: 7 March 2013
Published: 16 April 2013
Abstract
Introduction
Transglutaminase-mediated polymerization, unlike the traditional restoration methods based on the application of synthetic polymers, has proved to be a potential strategy in the restoration of historic silk. In the present study, the treatment process has been adapted to satisfy the needs of consolidating historic silk fabrics in various cases. Artificially aged (dry thermal ageing) silk samples were restored using this method. The effects of the reaction on silk fibers were investigated by tensile tests, colour difference tests, scanning electron microscopy and FT-IR. The ageing resistance of the restored samples was evaluated.
Results
The results showed that tensile strength, elongation rate at breakage and micro morphology of the silk samples were remarkably improved without significant colour difference after restoration. FT-IR spectroscopy confirmed the existence of transglutaminase-induced biopolymers in the restored silk samples and demonstrated that the transglutaminase-mediated restoration did not change the basic structure of silk protein. The ageing resistance of the restored samples evaluated using standard methods ensured that the treatment would not introduce any long term problems. The method was then applied to genuine historic silk fabrics and achieved the desired results.
Conclusions
From the results of this study, the effectiveness of transglutaminase-mediated polymerisation to restore historic silk was demonstrated.
Keywords
Transglutaminase
Historic silk
Restoration
Ageing behavior
Introduction
Silk is one of the most significant inventions in the history of human civilisation. Due to the long history of silk culture in China, a large number of valuable and fabulous silk fabrics have been discovered in various ancient tombs [1]. Most of the silk fabrics were made of degummed Bombyx mori silk, which is mainly composed of fibroin. A long time after burial, the condition of most historic silk fabrics is poor; some even turn into powder when touched. Thus, there is an urgent need to develop appropriate conservation techniques to restore the mechanical strength and ensure the long-term preservation of these fabrics.
A wide variety of methods, including weave, mount, silk screen, polymer, and graft copolymerisation [2–7] are commonly and efficiently adopted to consolidate historic textiles. Among these, synthetic polymers have been widely used as consolidating agents [8–15] and adhesives [16–19] because of their good mechanical and bonding properties. However, there are some potential problems in the application of synthetic polymers in the conservation and restoration of historic silk. Synthetic polymers are high molecular weight compounds polymerized by low molecular weight monomers, whose molecular structures are quite different from silk protein. Therefore, they are chemically incompatible with silk textiles, and as such, attempts have been made to replace synthetic polymers with protein solutions and cross-linking agents [20–22]. Cross-linking agents often contain multiple functional groups or unsaturated double bonds. Improper cross-linking agents bring potential harm to historic silk as time elapses, considering their corrosion and toxicity. Thus, a more promising method is based on transglutaminase-mediated protein polymerisation as a compatible and innocuous method to reinforce historic silk fabrics.
Transglutaminases (EC 2.3.1.13) are a large family of enzymes [
23
–
25
] that catalyse a post-translational modification of proteins by forming covalent cross-links between glutamyl and lysyl residues (Figures
1
,
2
). This leads to increased protein stability and resistance to chemical and proteolytic degradation [
26
]. It has been reported that transglutaminase can mediate sodium caseinate polymerisation to form biopolymers larger than 198 kDa [
27
]. These biopolymers have been found to significantly improve the tensile strength of sodium caseinate films [
28
]. As there is no glutamine residue in silk protein, transgluatminase alone has no effect on silk. The addition of sodium caseinate would allow the formation of biopolymers, which could fill in the cracks of silk fibers without harmful agents.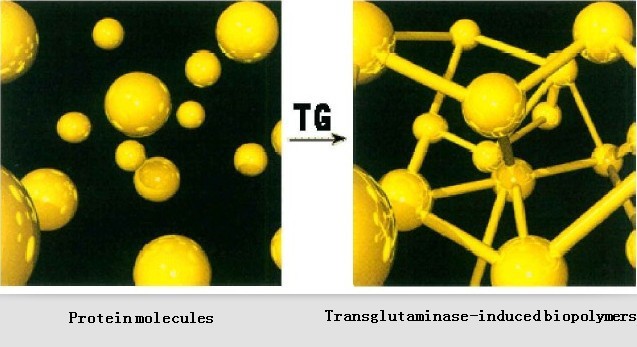 The experimental conditions of transglutaminase-mediated restoration of thermal aged silk have been determined by orthogonal experiment [29]. The present study has demonstrated the effectiveness of this reaction to restore historic silk. Due to their rarity and irregular shape, genuine historic silk fabrics were not appropriate for a large number of repeated tests. Instead, artificially aged silk samples were used as substitutes for the restoration experiments. Previous work has demonstrated that dry thermal ageing of modern silk samples under certain conditions can produce both proper residual tensile strength and chemical characteristics similar to that of genuine historic silk [29]. Therefore, the artificially aged samples used here were prepared using the same method. To simulate the conditions of archeological sites, an infrared lamp was used to control the reaction temperature instead of an incubator. The effects of restoration were characterised by means of tensile test, colour difference test, scanning electron microscopy (SEM) and Fourier transform infrared spectroscopy (FT-IR). The ageing resistance of the restored samples was evaluated by standard methods. The method was then applied to genuine historic silk fabrics and achieved the desired results.
Conclusions
As a compatible and innocuous consolidation method, transglutaminase-mediated restoration was adapted to meet the requirements of reinforcing fragile historic silk fabrics at archaeological sites. The mechanical properties of the fabrics were improved substantially without an obvious change in the appearance of the samples. The fractures in the fibers were filled by the biopolymers which were modified by transglutaminase-mediated polymerisation. The good ageing resistance of the restored samples proved that this method will stabilize historic silk over a long period of time. Therefore, transglutaminase-mediated polymerisation is an effective strategy for the restoration of historic silk.
Declarations
Acknowledgements
Financial support from the Key Projects in the National Science & Technology Pillar Program of China during the 11th Five-Year Plan period (2010BAK67B13) is gratefully acknowledged.
Authors' Affiliations
(1)
Department of History of Science and Scientific Archaeology, University of Science and Technology of China, Hefei, China
(2)
Basic Research Center of Conservation Science, University of Science and Technology of China, Hefei, China
Copyright
© Zhu et al.; licensee Chemistry Central Ltd. 2013
This article is published under license to BioMed Central Ltd. This is an Open Access article distributed under the terms of the Creative Commons Attribution License (http://creativecommons.org/licenses/by/2.0), which permits unrestricted use, distribution, and reproduction in any medium, provided the original work is properly cited.