Research article
Open Access
The freshwater reservoir effect in radiocarbon dating
Received: 31 March 2013
Accepted: 26 July 2013
Published: 2 August 2013
Abstract
The freshwater reservoir effect can result in anomalously old radiocarbon ages of samples from lakes and rivers. This includes the bones of people whose subsistence was based on freshwater fish, and pottery in which fish was cooked. Water rich in dissolved ancient calcium carbonates, commonly known as hard water, is the most common reason for the freshwater reservoir effect. It is therefore also called hardwater effect. Although it has been known for more than 60 years, it is still less well-recognized by archaeologists than the marine reservoir effect. The aim of this study is to examine the order of magnitude and degree of variability of the freshwater reservoir effect over short and long timescales. Radiocarbon dating of recent water samples, aquatic plants, and animals, shows that age differences of up to 2000 14C years can occur within one river. The freshwater reservoir effect has also implications for radiocarbon dating of Mesolithic pottery from inland sites of the Ertebølle culture in Northern Germany. The surprisingly old ages of the earliest pottery most probably are caused by a freshwater reservoir effect. In a sediment core from the Limfjord, northern Denmark, the impact of the freshwater reservoir effect on radiocarbon dating in an estuarine environment is examined. Here, freshwater influence causes reservoir ages to vary between 250 and 700 14C years during the period 5400 BC - AD 700. The examples in this study show clearly that the freshwater reservoir effect can seriously corrupt radiocarbon dating at inland sites. Reservoir effects should therefore be considered whenever food remains on pottery or the bones of omnivores are radiocarbon dated - irrespective of the site's distance to the coast.

Keywords
Aquatic PlantRadiocarbon DateArchaeological SampleReservoir EffectStable Isotope Measurement
Introduction
Throughout the entire history of radiocarbon dating, new sources of error have appeared, have been examined, and corrections have been found. Of particular interest and complexity are the so-called reservoir effects, which result in apparent ages that are too old.
One of the basic assumptions in radiocarbon dating is that a sample incorporates carbon in equilibrium with the atmosphere. This can be directly, e.g. in a plant via photosynthesis, or indirectly, e.g. when an animal feeds on plants. This type of sample is called terrestrial. If a sample obtains its carbon from another reservoir with a lower 14C level than the atmosphere, the basic assumption is no longer valid. The measured ages can be too old. This is typically the case for aquatic samples, originating in the sea (marine samples) or in freshwater systems such as lakes and rivers. This is of particular concern to archaeologists, as aquatic resources were an important contribution to human nutrition in Northern Europe, from Mesolithic hunter-gatherer-fishers to medieval Christians.
The marine reservoir effect is well-acknowledged among archaeologists, although the knee-jerk subtraction of 400 years from radiocarbon dates of marine samples might be too simplistic in some cases.
At least theoretically, the freshwater reservoir effect (FRE) has been known for a longer time than the marine reservoir effect. The most common cause of high apparent ages in freshwater systems is the presence of dissolved ancient carbonates, leading to the so-called hardwater effect. Under closed system conditions, calcite dissolution by carbonic acid leads to a 50% dilution of the 14C concentration [1, 2], causing a maximum FRE of one half-life of 14C, about 5,370 years. Under open system conditions, water DIC is continuously exchanging with the infinite reservoir of 14C-active soil CO2, causing no reservoir offset. In reality, freshwater systems have intermediate conditions, and a FRE between 0 and almost 6,000 years is possible [1].
The hardwater effect was already predicted by J. Iversen in a private communication to E. S. Deevey, October 5, 1949 [3]. The effect was considered by Godwin in 1951 [4] when discussing radiocarbon dates from the British Isles, and measured for the first time in 1954 on aquatic plants [5]. The marine reservoir effect was observed and discussed slightly later in the 1950s [6–8].
However, it took several decades before the FRE was measured and discussed in archaeologically relevant sample types, such as human bones [9–14] or food crusts on pottery [15–18]. In these cases, the consumption or preparation of large amounts of freshwater fish lead to spurious apparent ages of the bones and pottery.
Also aquatic plants which are incapable of assimilating carbonates, and rely on CO2, such as aquatic mosses, can show a substantial FRE [19]. High apparent ages can also be measured in carbonate-free groundwater and surface water [20], and apparent ages of up to 20,000 BP were reported from an Icelandic geothermal area [21].
In softwater lakes, the FRE can be caused by slow CO2 exchange between the atmosphere and the lake water due to a large depth-to-surface ratio, good wind protection or extended periods of lake ice cover [22, 23]. Other causes for a soft-water FRE are the inflow of old groundwater [22], the oxidisation of old organic matter [24], the inflow of water from a glacier containing old CO2, or old CO2 from volcanic activity [23].
Freshwater reservoir effects can vary significantly within one lake or river [18, 25, 26], even when only regarding submerged plants [26], or a single fish species from one lake [27]. Furthermore, the FRE influences radiocarbon dating in fjords and estuaries and can lead to site and time specific reservoir ages [28–30].
However, little attention has been paid to the temporal variability of the freshwater reservoir effect, and rivers have been underrepresented in studies of the FRE, with most studies focusing on lakes.
This study was designed to address some of these topics: the FRE in rivers; the short-term variability of the FRE; and the impact of the FRE on radiocarbon dating in estuarine environments. Therefore, modern river samples, archaeological samples from riparian sites, and samples from a fjord sediment core were radiocarbon dated. These radiocarbon dates were obtained as part of different studies from the author's PhD project, all employing a variety of methods. See [17, 18, 31–33] for details on the individual sub-projects. For this paper, the radiocarbon dating results of the different sub-projects are extracted and discussed in the context of other authors' studies on the FRE. This will provide an overview of use to archaeologists who consider dating materials which may be affected by a FRE. The author hopes that this paper can serve as a useful introduction to the FRE for researchers who are not familiar with this topic.
Location
The locations examined in this study are mapped in Figure
1
. Two main regions are in the focus of this paper, both located on the Jutland peninsula.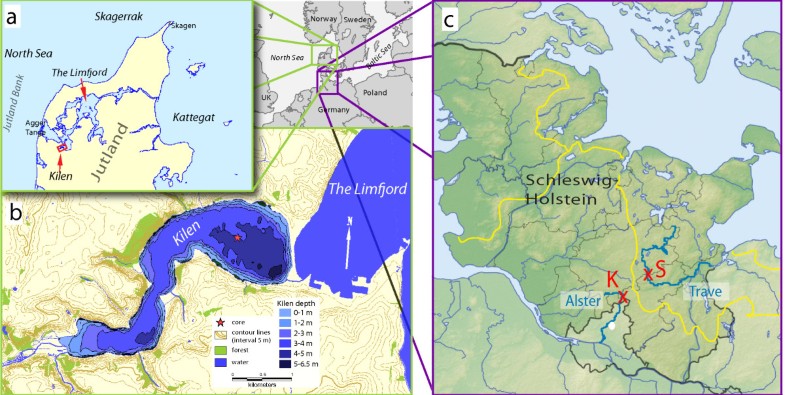 The first region this paper deals with is the southern part of the Jutland peninsula, the northernmost federal state of Germany, Schleswig-Holstein. Here, the short-term variability of the freshwater reservoir effect in the rivers Alster and Trave is measured. Both rivers run through a morainal landscape from the last two glaciations. The moraines have calcium carbonate contents of up to 20% ([35]; see [32] and [31] for details on the study area). In the same region, the impact of the freshwater reservoir effect on radiocarbon dating of pottery was studied. Mesolithic pottery, maybe the earliest in that region, was found at the sites Kayhude at the Alster and Schlamersdorf at the Trave. These sites are marked "K" and "S" on Figure 1.
The second region examined in this paper is the Limfjord, a sound through Northern Jutland. The study location Kilen is a former inlet of the Limfjord at 56∘30.005′N, 08∘34.089′E. Today, after the construction of a dam, Kilen is a brackish embayment. As Kilen was naturally protected from strong currents, storms and wave action in the past, a continuous sediment sequence has been preserved. It is therefore possible to study the influence of the freshwater reservoir effect on radiocarbon dates in the Limfjord over long time scales. Details on this study area are provided in [31, 33, 36, 37].
Materials and methods
This section describes the sample collection, chemical preparation, and measurement techniques. Modern samples of water, aquatic plants, fish and shellfish from the rivers Alster and Trave have been collected. Archaeological samples were provided from the Late Mesolithic sites of Kayhude/Alster and Schlamersdorf/Trave. Samples for studying the Limfjord were obtained from a sediment core.
Water
Dissolved inorganic carbon, DIC, is the carbon source for aquatic photosynthesis, and thus the material chosen for radiocarbon dating water samples. It comprises CO2(aq), H2CO3(aq), and . On 21 August 2007, 25 September 2008, 18 February 2009 and 6 July 2010, water samples were collected from the Northern German rivers Alster and Trave (Figure 1). They were sampled in 0.5L bottles and preserved with a few drops of a HgCl2 solution. This prevented the growth of algae, which would have converted some of the DIC into organic carbon. The samples were kept dark and cool until analysis. The water was acidified with 100% H3PO4, which converted all DIC into CO2. N2 was bubbled through the water to free the CO2, which was trapped cryogenically.
Modern plants and animals
Aquatic macrophytes and animals were collected at the same sites as the water samples. They were freeze-dried prior to analysis. No visible carbonate encrustations were found on the aquatic plants. HCl-pretreatment was therefore not considered necessary. Local fishermen provided fish from the rivers. Collagen was extracted from some modern fishbones, as this is the material used for analyses of archaeological bones. A modified Longin-procedure with ultrafiltration was used [38–40]. The samples were converted to CO2 by combustion in sealed evacuated quartz tubes containing CuO.
Sediment core from the Limfjord
In 2007, a 1560 cm long sediment sequence was obtained from Kilen, Limfjorden (Figure 1). The coring was made with a Russian peat sampler (chamber length 100 cm; [41]) in two parallel boreholes at a water depth of 390 cm below present sea level (bpsl). The sediments consist of homogenous grey-brown marine clay gyttja. This study focuses on the part between 467 and 1935 cm bpsl which was subsampled at 1–2 cm depth intervals. Material for AMS 14C dating was retrieved by wet sieving. Other sample types and measurements from this core, e.g. stable isotope measurements, are described in detail in [33, 36].
Shells
Both modern shells, collected from the Northern German rivers, and shells from the sediment core in the Limfjord were pretreated with the following method: Shells were cleaned with ultrasound in demineralised water. Depending on size, the outer 10–25% of the shell was dissolved with 1M HCl. Possible organic remains were removed with KMnO4 at 80∘C.13−−14 mg of pretreated shell was dissolved in 100% H3PO4 at 25∘C, to produce CO2 for 14C-dating.
Archaeological samples and terrestrial plant remains from the sediment core
Archaeological charcoal samples and plant remains from the sediment core were pre-treated with 1M HCl at 80∘C for one hour, 1M NaOH at 80∘C for at least three hours and 1M HCl at 20∘C overnight. Archaeological food crusts can be used for dating the last usage of the pottery. They were pre-treated like charcoal, but at 20∘C, and with only 0.5 or 0.2 M NaOH. Collagen was extracted from archaeological bones as described above for modern fish bones. The samples were converted to CO2 by combustion in sealed evacuated quartz tubes containing CuO.
Radiocarbon dating
For radiocarbon dating, CO2 from the combusted or acidified samples was converted to graphite with the H2 reduction method [42]. It was measured at the AMS 14C Dating Centre at Aarhus University (AAR-numbers) or at the 14CHRONO Centre, Queen's University Belfast (UBA-numbers). The dating results are reported as conventional 14C dates in 14C yr BP [43]. Calibrated dates have been obtained using OxCal version 4 with IntCal09 [44, 45] and are quoted as cal AD/BC.
For the sediment core, an age model was calculated based on 13 radiocarbon dates on macrofossils of unequivocally terrestrial origin. To account for changes in accumulation rate, boundaries are inserted at 447, 552, 1055 and 1748 cm, based on major changes in the CaCO
3
content (Figure
2
). The age model was constructed using the P_sequence depositional model in OxCal 4.1 [
44
], with
k
values between 10 and 200. The final
k
value of 150 yielded an agreement index of 73.3%. The width of the green line in the age model, Figure
2
, indicates the uncertainty of the age model.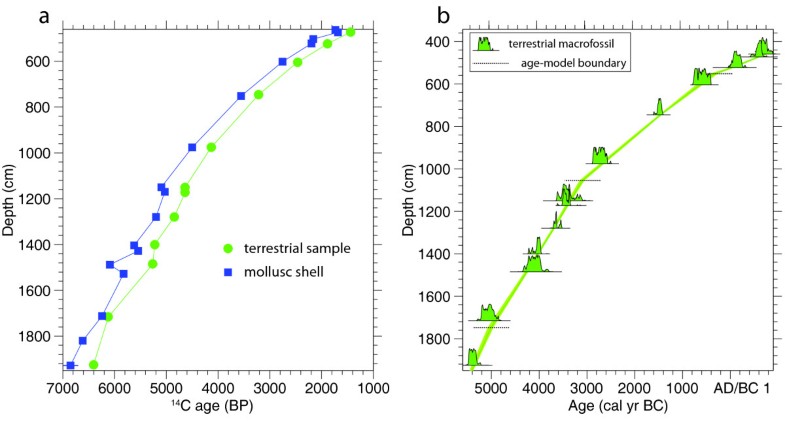 Stable carbon isotope measurements
Measurements of the stable carbon isotope ratio, 13C/12C, are essential for normalising 14C-measurements. Furthermore, they provide information about the origin of a sample. They can for example distinguish between marine and terrestrial samples. Measurements were either performed on the pre-treated sample, using an elemental analyser, or on a CO2 aliquot from combustion or acidification.
The analyses on pre-treated samples were performed by combustion in a EuroVector elemental analyser coupled to an IsoPrime stable isotope ratio mass spectrometer at the AMS 14C Dating Centre at Aarhus University. Most samples yielded enough material for replicate measurements. δ13C values are reported as ‰ VPDB. δ15N values and C/N ratios were measured at the same time and are discussed in detail in other publications [31–33].
The analyses on a CO2 aliquot from the radiocarbon preparation were performed using a Dual Inlet IsoPrime stable isotope mass spectrometer at the AMS 14 Dating Centre at Aarhus University. δ13C values are reported as ‰ VPDB. The standard deviation of 0.05‰ was determined using internal laboratory standards.
Calculation of reservoir ages
The reservoir age
R
is the difference in
14
C age between an aquatic sample and a contemporaneous terrestrial sample. It is calculated by subtracting the
14
C age of a terrestrial sample from the
14
C age of the contemporaneous aquatic sample :
Finding the 14C age of a contemporaneous terrestrial sample was challenging for all instances where reservoir ages were calculated: Modern samples are affected by bomb carbon [46, 47], while not all ancient aquatic samples are clearly associated with terrestrial samples. Therefore, the following two sections will elaborate on how to calculate reservoir ages in these cases.
Calculation of reservoir ages of modern samples
As post-bomb terrestrial
14
C ages are negative, the
14
C age measured on an aquatic sample would underestimate the reservoir effect. Therefore, both the aquatic sample and a modern terrestrial sample are dated. Measurements on atmospheric
14
CO
2
(e.g. [
48
]) provide a convenient record of terrestrial references. The reservoir age
R
in
14
C years is calculated from the difference in
14
C ratios, which are given as percent modern carbon, pmC (pmC
A
for the aquatic, pmC
T
for the terrestrial sample; see [
43
] for details on notation and reporting of radiocarbon data):
where 8033 is the conventional "Libby" mean life of
14
C. The uncertainty of the calculated reservoir age
R
,
s
(
R
), is calculated by propagation of uncertainty from the measurement uncertainties
Δ
pmC:
For the 14C content of the contemporaneous atmosphere at the time of sample formation, pmC T , measurements from the Black Forest station Schauinsland are used ([48] and pers. comm. I. Levin 2012). In spite of the high altitude, they are assumed to be a better estimate than the available data from a low-altitude station, Heidelberg, in the heavily polluted Rhein-Neckar area, which is affected both by additional 14C from a nearby nuclear power plant and 14C-free CO2 from industry, heating and transport [49].
Water DIC
14
C-concentrations measured in this study will be compared with those of the atmosphere in the month of sampling, and aquatic plant
14
C-concentrations with the average atmospheric concentrations of the entire growing season during which the plant grew (April-September, or April-July/August in case of sampling in summer). The average atmospheric
14
C levels used for these calculations are presented in Table
1
. For calculations of the uncertainty of the reservoir age of water DIC, the uncertainty of ±2‰ of the atmospheric measurements was used [
49
]. In the case of aquatic flora and fauna, the standard deviation of the average atmospheric measurements throughout the growing season was used.
Table 1
Radiocarbon dates of modern water samples, aquatic plants and animals from Northern Germany
Radiocarbon dates of modern water samples, aquatic plants and animals from Northern Germany

River, Year

AAR

Species

pmC

14C age

Res. age

δ13C (‰VPDB)

Alster, 2007

11779

Water DIC

78.30 ±0.30

1967 ±33

2418 ±35

-14.96 ±0.05 (DI)

Alster, 2008

12881

Water DIC

72.18 ±0.43

2619 ±48

3044 ±50

-10.92 ±0.05 (DI)

Alster, 2009

13612

Water DIC

82.75 ±0.36

1521 ±35

1871 ±38

-14.85 ±0.05 (DI)

Alster, 2010

14332

Water DIC

75.49 ±0.24

2259 ±26

2638 ±30

-14.27 ±0.05 (DI)

Trave, 2007

11780

Water DIC

86.45 ±0.57

1170 ±55

1623 ±55

-13.59 ±0.05 (DI)

Trave, 2008

12882

Water DIC

78.04 ±0.42

1992 ±44

2417 ±46

-11.30 ±0.05 (DI)

Trave, 2009

13611

Water DIC

86.38 ±0.35

1176 ±33

1527 ±36

-8.94 ±0.05 (DI)

Trave, 2010

14333

Water DIC

75.52 ±0.25

2255 ±27

2634 ±31

-11.86 ±0.05 (DI)

Alster, 2008

12873

subm. plant

75.36 ±0.38

2273 ±41

2694 ±439

-31.62 ±0.23 (EA)

Alster, 2010

14334

Nuphar leaf

76.83 ±0.24

2117 ±25

2472 ±602

-31.50 ±0.05 (DI)

Alster, 2010

14335

Nuphar petiole

78.51+0.23

1944 ±24

2299 ±602

-31.24 ±0.05 (DI)

Trave, 2008

12870

subm. plant

100.93 ±0.44

-74 ±35

347 ±439

-25.42 ±0.46 (EA)

Trave, 2008

12871

floating plant

89.64 ±0.41

879 ±37

1300 ±439

-28.09 ±0.73 (EA)

Trave, 2008

12872

subm. plant

80.93 ±0.55

1700 ±55

2120 ±440

-17.45 ±1.88 (EA)

Trave, 2010

14336

subm. plant

78.80 ±0.24

1914 ±24

2269 ±602

-34.22 ±0.05 (DI)

Trave, 2010

14337

subm./float.

85.45 ±0.24

1263 ±23

1618 ±601

-26.95 ±0.05 (DI)

Trave, 2010

14338

Nuphar leaf

96.48 ±0.24

288 ±20

643 ±601

-27.52 ±0.05 (DI)

Trave, 2010

14339

Nuphar petiole

97.04 ±0.30

241 ±25

596 ±602

-26.67 ±0.10 (EA)

Alster, 2007

11460

Mussel shell

85.98 ±0.37

1214 ±34

1654 ±381

-13.22 ±0.05 (DI)

Alster, 2007

11461

Snail shell

94.75 ±0.37

433 ±32

870 ±381

-15.36 ±0.05 (DI)

Alster, 2007

11462

Roach BC

97.27 ±0.35

223 ±29

661 ±381

-25.46 ±0.05 (DI)

Trave, 2007

11394

Roach BC

96.51 ±0.38

285 ±32

727 ±381

-25.91 ±0.05 (DI)

Trave, 2007

11396

Roach BC

97.01 ±0.34

244 ±28

685 ±380

-24.24 ±0.05 (DI)

Trave, 2008

12874

Mallard feather

104.77 ±0.41

-374 ±32

47 ±438

-23.99 ±0.11 (EA)

Trave, 2008

12875

Spined loach

81.29 ±0.39

1664 ±39

2085 ±439

-27.24 ±0.09 (EA)

Trave, 2008

12876

Crayfish

84.37 ±0.42

1365 ±40

1787 ±439

-27.89 ±0.46 (EA)

Trave, 2008

12878

Roach, flesh

99.17 ±0.40

67 ±32

488 ±438

-22.30 ±0.10 (EA)

Atmospheric 14 C-levels, used for estimating reservoir ages

Timespan

pmC

Timespan

pmC

August 2007

105.80 ±0.21

growing season up to August 2007

105.64 ±4.99

September 2008

105.44 ±0.21

growing season up to September 2008

105.39 ±5.73

February 2009

104.47 ±0.21

growing season before February 2009

105.39 ±5.73

July 2010

104.83 ±0.21

growing season up to July 2010

104.52 ±7.82
Calculation of reservoir ages for samples from a sediment core
In the case of mollusc samples from a sediment core, we need an independent control of the true age of the molluscs to calculate their reservoir ages. In some cases, shell and terrestrial material from the same depth are available. The reservoir age R
direct
is the difference between the
14
C age of the mollusc,
14
C
M
, and the
14
C age of the contemporaneous atmosphere, as determined by the
14
C age of a terrestrial sample,
14
C
T
:
where
t
represents the calendar age as determined by the terrestrial age-depth model. When the contemporaneous
14
C age of the atmosphere cannot be assessed directly, i.e. terrestrial material is not available at the same depth,
14
C
T
(
t
) is determined using the age model (to estimate
t
, Figure
2
) in conjunction with the atmospheric calibration curve IntCal09 [
45
] to calculate the reservoir age R(
t
) as
Similarly, the local
14
C reservoir age deviation from the global 'model' ocean,
δ
R(
t
), can be estimated as the difference between a measured marine
14
C age, , and the contemporaneous marine
14
C age of the global 'model' ocean, :
In this case, the calibrated age t of each mollusc sample is converted into a marine 14C age, , by applying the global marine calibration curve Marine09 [45]. Errors on the calculated δR(t) values are estimated using 95% confidence intervals on the calibrated terrestrial age of each mollusc sample together with the measurement uncertainty on 14CM, i.e. the error on the mollusc 14C date.
Results and discussion
This presentation of the results starts with modern samples from Northern Germany. Then archaeological samples from the same region are discussed to assess the effect on samples from the past. Finally, the importance of the freshwater reservoir effect for radiocarbon dating in an estuarine environment is examined.
Conclusion
In modern river samples, the freshwater reservoir effect is large and variable even on short time scales. The reservoir age of water DIC depends on precipitation amounts prior to sampling. Differences between adjacent rivers can be caused by differences in residence time, or differences in concentrations of 14C-deficient carbonates or organic material in the watershed. The radiocarbon age range of modern aquatic plants spans more than 2000 14C years. This is most likely caused by the multitude of carbon sources available for these plants, including different DIC species, atmospheric CO2, and CO2 from decaying vegetation in the river sediments or in the catchment. It should be stressed that floating leaves of aquatic plants, although assimilating atmospheric CO2, can not be regarded as terrestrial samples. These results indicate that it is impossible to find a single freshwater reservoir age for a given river system. A few samples of water, plants or fish from a river are not sufficient to characterise the 14C age of a water body. However, the freshwater reservoir effect might still be "correctable" for archaeological samples: Reservoir age fluctuations are expected to be less pronounced for pre-bomb samples; organic matter with an actual age of a few decades can be heavily affected by bomb carbon and thus reduce a sample's radiocarbon age significantly. Furthermore, samples accumulating carbon over longer time scales, such as human bones, show average reservoir ages. These might be quite uniform for individuals with similar nutrition habits.
Analyses on archaeological samples indicate the necessity of direct pottery dating, as securely associated terrestrial samples are difficult to find for the assumedly earliest pottery in Northern Germany. A freshwater reservoir effect is likely for the food crusts on pottery from the Ertebølle sites Kayhude and Schlamersdorf. A strong indicator for this is a sherd where both inner and outer crust have been dated, yielding an age difference of approximately 2000 years. The true age of the pottery at Schlamersdorf might be indicated by the radiocarbon date of a plant remain found within the ceramic matrix. A radiocarbon age of about 6000 BP implies that the pottery most likely was produced after 5000 cal BC. In all probability, the earliest pottery from inland sites in Schleswig-Holstein has the same age as Ertebølle pottery from coastal sites. The origins of pottery in Schleswig-Holstein can thus equally likely derive from Eastern European hunter-gatherer pottery traditions, as well as from southwestern influences from agricultural communities in central Germany.
Reservoir age measurements from a core from the Limfjord exemplify that freshwater influence can cause fluctuations of the coast-near marine reservoir ages of up to several hundred years. Freshwater influence can both increase and decrease the reservoir age. A marine reservoir correction can thus not be applied to estuarine samples. So far, stable isotope measurements on shells or sediment organic matter can not be used to predict the reservoir effect. The variable coastal reservoir effect should be kept in mind when radiocarbon dating marine samples, pottery or human bones from coastal sites, as coast-near fishing and shell collection are ascertained for many prehistoric periods.
Declarations
Acknowledgements
I would like to thank my PhD supervisors Jan Heinemeier and Jesper Olsen for their support with the project about the freshwater reservoir effect in Northern Germany (JH) and the project about the Limfjord (JO). Furthermore, I would like to thank Sönke Hartz and Ingo Clausen for providing archaeological samples, Sönke Hartz for assistance with collecting modern samples from rivers, and the staff at the AMS 14C Dating Centre, Aarhus, and 14Chrono, Belfast, for their support. Three reviewers provided useful comments that helped to improve this paper.
Authors' Affiliations
(1)
AMS 14C Dating Centre, Department of Physics and Astronomy, University of Aarhus, Aarhus C, Denmark
Copyright
© Philippsen; licensee Chemistry Central Ltd. 2013
This article is published under license to BioMed Central Ltd. This is an Open Access article distributed under the terms of the Creative Commons Attribution License (http://creativecommons.org/licenses/by/2.0), which permits unrestricted use, distribution, and reproduction in any medium, provided the original work is properly cited.