Research article

Open Access
Implications of colonizing biofilms and microclimate on west stucco masks at North Acropolis, Tikal, Guatemala
Received: 17 April 2013
Accepted: 25 September 2013
Published: 3 October 2013
Abstract
Introduction
The Mayan archaeological sites belong to the World cultural heritage. The porous nature of limestone and stucco (calcareous coating) along with the high humidity and temperature typical of Southern Mexico and Central America, make these monuments prone to stone biodeterioration. The Mayan masks and stelae of the North Acropolis Complex (Tikal, Guatemala) are one of the most emblematic and valuable items at this site. As a common practice to keep these items from weathering, archaeologists and restorers build palm roofs over them. A field survey undertaken in august 2006 has shown that the West Mask (WM) semi-protected under a roof was heavily colonized by biofilms and display decayed feature. The East Mask (EM) located in a vault and kept from the exterior environment appears dry and sound. The apparent correlation of biofilm coverage and substratum deterioration led us to hypothesize that biofilm coating the WM had deteriogenic activity.
Results
The purpose of this study was to characterize the biofilms colonizing WM, determine efflorescence chemistry and monitor microclimate under the palm roof in order to shed light on the ongoing deterioration phenomena. Contrasting microclimates were observed associated with WM and EM, with varying levels of relative humidity, sunlight and temperature being linked to the former. These conditions allowed the development of biofilm communities dominated by cyanobacteria only on the WM. Some of the detected taxa are recognized endolithic organisms (i.e. Gloecapsa). Fourier-transformed infrared spectroscopy showed that polysaccharides dominated the chemistry of biofilms. X-ray diffraction analyses (XRD) confirmed the presence of halite, gypsum and weddellite in efflorescences associated with the WM. Our results suggest that the joint impact of a varying microclimatic regime and the presence of biofilms promoted the deterioration.
Conclusions
The use of palm roofs as protective practice in the Mayan area should be reassessed. Although they prevent deterioration stucco masks and stelae from direct exposure to the environment, they also induce a microclimate suitable for phototrophic biofilms capable of deteriorating directly and indirectly stucco materials. Management of microclimate and biofilm control should be further investigated as additional means to conserve these valuable items.
Keywords
BiodeteriorationBiofilmsCyanobacteriaExopolymersMayan monumentsMicroclimateSalt weatheringStuccoWater retention
Introduction
Microbial communities readily colonize as biofilms both ancient and modern stone buildings in Latin America [1–3]. These communities colonize different zones of the substratum growing as epiliths on the surface or endolithic consortia within cracks and pores [4]. Globally they can be termed lithobiontic biofilms [5].
Mayan monuments provide two main types of available substrata for colonization, limestone and stucco. Stucco is a composite material made of burnt limestone, sand and plant extracts [6]. Lithobiontic biofilms comprise a range of organisms including bacteria, cyanobacteria, algae, lichens, filamentous fungi and yeasts. In the tropics, cyanobacteria are often the dominant organisms within biofilms [7].
It is now widely accepted that colonization by biofilms may lead to biodeterioration [
4
]. According to Scheerer and coworkers (2009) microorganisms may contribute to stone deterioration by discoloring the surfaces, trapping dirt and excreting deteriorating acid and alkaline metabolites [
8
]. Physical deterioration by lichens and fungal hyphae is also common [
9
,
10
]. Several studies have shown that phototrophs in association with heterotrophs deteriorate by growing endolithically in limestone blocks of Mayan monuments located in northern Yucatan Peninsula [
2
,
3
]. Endolithic growth is often considered a strategy to cope with stress imposed by desiccation. Under more humid conditions and when the substratum has been highly weathered, microbial growth is often overgrown by mosses providing appropriate conditions (a "proto-soil") for the germination of higher plants [
11
] such as in the case of exterior walls of the Jaguar Temple at Tikal, Guatemala [
12
]. Further deterioration may thus result by mechanical expansion of cracks and fissures by damaging plant roots, a rather common feature in the tropics. The North Acropolis is a sacred place, chosen for burial ground of the Rulers of Tikal for over 5 centuries (Figure
1
).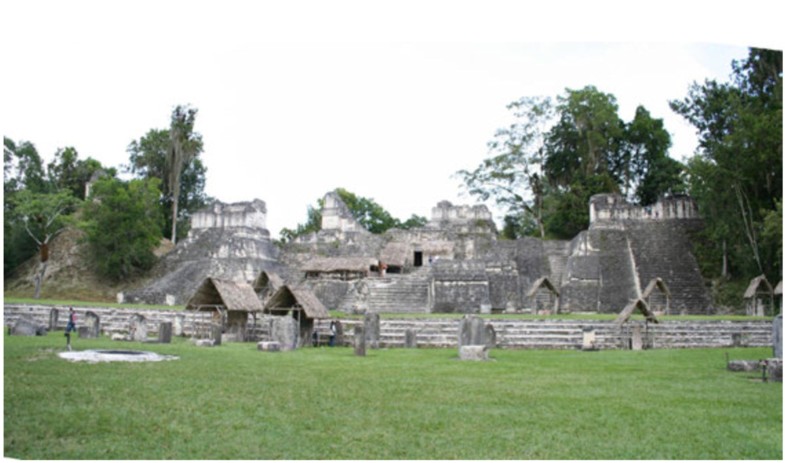 The North Acropolis was occupied for at least 1500 years, as demonstrated by more than a dozen successive construction levels. From the beginning, the acropolis was built atop a large artificial terrace, which supported numerous buildings with ritual activities. Associated stelae face the south, portraying rulers and past events. They portray the rulers of Tikal [
13
]; others record transcendental events in their lives. Between 200 B.C. and 200 A.D. Maya architects across the northern Petén area designed short, broad temples with wide staircases flanked by ten-feet tall stucco masks portraying deity faces [
14
]. These masks used to be painted in brilliant colors including red, green, yellow, and blue; they were directly exposed to the exterior environment without any protection. Nowadays, most masks are gone due to deterioration. The remaining masks exhibit a range of conservation status. Those fully exposed to the exterior are badly deteriorated probably by karstic dissolution [
12
] and thermal weathering [
15
,
16
]. The WM in Structure 33D which is open to visitors is partially protected from the exterior by means of palm (guano) roof built by archaeologists and restorers (Figure
2
A). Palm is a natural material displaying excellent thermal properties.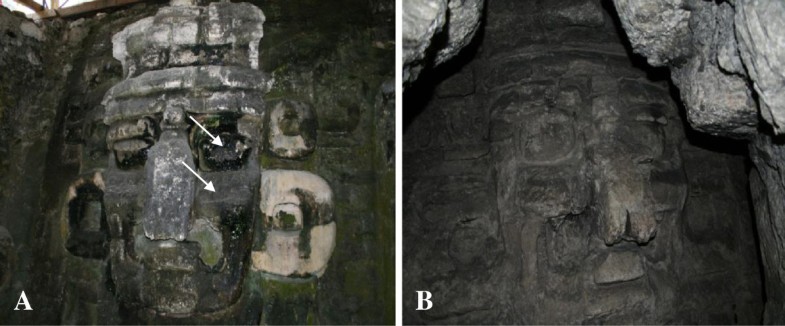 In contrast, the EM (Figure 2B) is located in a vault inside Structure 33D, connected to the exterior only by means of a narrow tunnel. It is not available for visitors. During a field survey at Tikal in august of 2006, a visual inspection showed the EM was not colonized and displayed a good state of conservation. This conservation status was confirmed by preliminary hardness measurements; when the stucco surface was punctured with a scalpel, it penetrated slightly. Conversely, the WM was almost completely covered with massive biofilms, except on the top of the mask (tuft) where biofilms were seen peeling and detaching. Underneath the biofilms, the substratum often was softened, with some loose material being detected. Small efflorescences were also observed. The apparent correlation of biofilm coverage and substratum deterioration led us to hypothesize that the WM was biodeteriorated.
The purpose of this study was to characterize the biofilms colonizing WM, determine efflorescence chemistry and monitor microclimate under the palm roof in order to provide a preliminary assessment of the ongoing deterioration phenomena.
Conclusions
The use of palm roofs is a common protective practice among archaeologists and restorers in the Mayan area of Mexico and Central America. These keep delicate structures such as stucco masks and stelae from deteriorating by thermal and dissolution processes. However, the use of this protective measure induces a varying microclimate that promotes the colonization of phototrophic biofilms, thus altering dissolved salt migration that eventually leading to deterioration. Management of microclimate by controlling relative humidity, eradicating biofilms by physical and chemical strategies and keeping them in check by using non-photosynthetic active lighting is a countermeasure that should be further investigated.
Declarations
Acknowledgments
We thank JICA (Japan) and Universidad Autónoma de Campeche for providing funds for this study. We appreciate Francisco Castañeda for his valuable help during field work and data gathering.
Authors' Affiliations
(1)
Departamento de Microbiología Ambiental y Biotecnología, Universidad Autónoma de Campeche, Campeche, México
(2)
Center for Cultural Resource Studies, Kanazawa-shi, Japan
(3)
Laboratorio de Ficología, Facultad de Ciencias, Universidad Nacional Autónoma de México, Coyoacán, México
(4)
CINVESTAV Unidad Mérida, Mérida, Yucatán, México
Copyright
© Ortega-Morales et al.; licensee Chemistry Central Ltd. 2013
This article is published under license to BioMed Central Ltd. This is an open access article distributed under the terms of the Creative Commons Attribution License (http://creativecommons.org/licenses/by/2.0), which permits unrestricted use, distribution, and reproduction in any medium, provided the original work is properly cited.