Examination of historical paintings by state-of-the-art hyperspectral imaging methods: from scanning infra-red spectroscopy to computed X-ray laminography
Received: 17 February 2014
Accepted: 7 May 2014
Published: 30 May 2014
Abstract
The development of advanced methods for non-destructive selective imaging of painted works of art at the macroscopic level based on radiation in the X-ray and infrared range of the electromagnetic spectrum are concisely reviewed. Such methods allow to either record depth-selective, element-selective or species-selective images of entire paintings. Camera-based 'full field' methods (that record the image data in parallel) can be discerned next to scanning methods (that build up distributions in a sequential manner by scanning a beam of radiation over the surface of an artefact). Six methods are discussed: on the one hand, macroscopic X-ray fluorescence and X-ray diffraction imaging and X-ray laminography and on the other hand macroscopic Mid and Near Infrared hyper- and full spectral imaging and Optical Coherence Tomography. These methods can be considered to be improved versions of the well-established imaging methods employed worldwide for examination of paintings, i.e., X-ray radiography and Infrared reflectography. Possibilities and limitations of these new imaging techniques are outlined.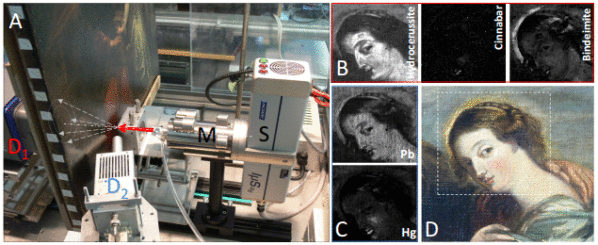 Keywords
Painting
Non-invasive imaging
Hyperspectral imaging
Full spectral imaging
Macroscopic X-ray fluoresence
Near-infrared
Mid-Infrared
Computed X-ray Laminography
Optical Coherence Tomography
Introduction
Historical paintings are considered to be among the most precious cultural heritage artefacts and have been the subject of intensive studies for decades. Scientific studies on such artefacts are highly relevant, in order to optimize the preservation of the paintings for coming generations and/or to gain more profound insights in their creation process [1–3]. This review focusses on the examination of easel paintings, i.e., painted renditions realized on a moveable substrate. Easel painting consists typically of a support, ground, paint and varnish layers, applied on top of one another. Canvasses and wooden panels are the most popular supports, but also other materials such as thin copper plates, paper, stone and glass have been used. Often the pictorial layers are very thinly painted out, making some of them semi-transparent. Micrometers below a painting's surface, a wealth of information may be present about the creative process followed by the artist while making the work of art. Many painterly effects can critically depend on the layer build-up: e.g., the translucent shine of colorful tissues, the suggestion of shadow in flesh tones or the convincing illusion of an object's texture may be realized by deliberately including the optical contribution of lower layers. Additionally, knowledge about the stratigraphy of a painting often is highly relevant in conservation when stability problems such as paint discoloration or delamination are studied. Thus, the study of a painting, its composition and stratigraphy is a common research theme shared by curators, conservators and conservation scientists. However, this information, comprised of structural and compositional aspects, is usually not easy to obtain in a non-invasive manner. Next to the visible surface layers, subsurface layers may include underdrawings, underpaintings, and adjustments made in the course of painting. Together, all these layers determine the current appearance of the work of art. In a growing number of cases conservators have discovered abandoned compositions underneath paintings, illustrating the artist's practice of reusing a canvas or panel. Imaging methods that can "read" this hidden information without any damage to the artwork are therefore valuable for art-historical research [2] while also being very useful during restoration activities.
The standard methods for studying the inner structure of painted works of art are X-ray radiography (XRR) and infrared reflectography (IRR), penetrative illumination techniques that are optionally complemented with the microscopic analysis of cross-sectioned samples. Both methods are full field imaging methods, employing image plates or cameras that are sensitive in the appropriate range of the electromagnetic spectrum for recording the image data (see Figure
1
A). Since these methods all have their limitations, recently, a number of new approaches based on X-ray and Infra-red radiation for imaging the buildup of hidden paint layer systems have been put into practice; some of these methods make use of scanning pencil beams over the painting while recording data either in transmission or reflection mode (see Figure
1
B, C). Two major motivations can be discerned for the development of these more advanced versions: (a) the desire to know more about the creative process and/or the artist's way of working that have led to a given work of art and (b) the need to assess and predict the current and future condition of a work of art. Motivation (a) is essentially of art-historical nature and seeks to reconstruct (better)
the past/history
of an artwork while motivation (b) is more strongly linked to preventive conservation and to conservation technology, and therefore mostly concerned with
the future
of the artwork [
1
]. Of course, for conservation, an understanding of the history of a work of art and the artist's intent is fundamental, since it provides the basis for assessing the current condition of the art work and for deciding which interventions are (not) appropriate [
4
]. In what follows, we mainly review recent activities that involve the use of strongly penetrative radiation (from either the X-ray or IR range of the EM spectrum); the interested reader is referred to reviews [
1
–
4
] for a broader treatment of the topic, including related spectroscopic investigations. Also Liang's 2012 review of multispectral and hyperspectral imaging using mainly visual radiation is a useful complementary resource in this respect [
5
].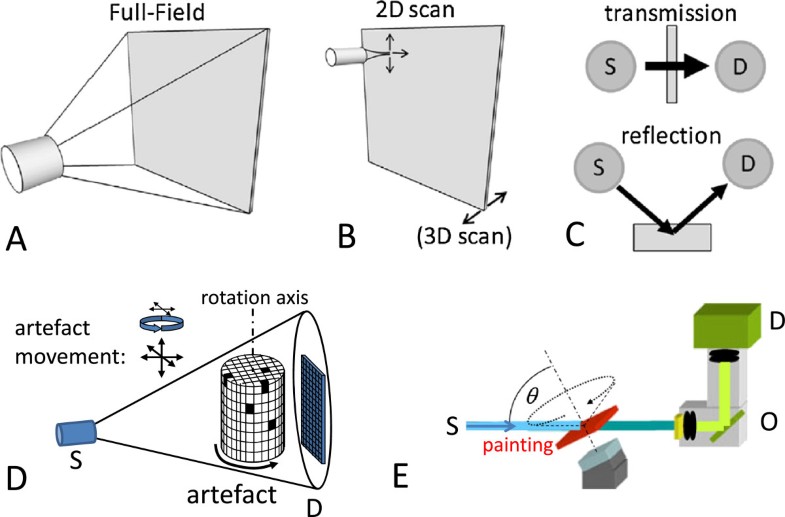 Conclusions
In this paper a brief overview was presented of recent methodological and instrumental developments regarding the characterization of painted works of art based on either penetrative X-ray or Infrared radiation. Macroscopic XRF is a variant of the general method of X-ray fluorescence analysis that is well suited to visualize the elemental distribution of key elements, mostly metals, present in areas of around 0.5-1 m2 or more. This method is not depth-selective so that projected pigment distributions (at and/or below the visible paint surface) are obtained. For depth-selective imaging of the individual layers in a painting, on the other hand X-ray laminography, a variant of computed X-ray tomography that is more suitable for examination of flat panels, appears promising. Also by means of OCT, depth resolved imaging appears possible, albeit in materials that retain a certain transparency. By means of infrared radiation, either in the NIR or in the MIR ranges, camera-based or scanning based reflection mode imaging can be performed. The information obtained in this manner is often complementary to that obtained by means of the X-ray based methods. The combined use of MA-XRF/XRD scanning with NIR/MIR hyperspectral imaging or MA-rFTIR scanning appears to be a very promising new direction for non-invasive imaging of paintings.
Declarations
Acknowledgements
The authors acknowledge support from the Hercules fund, Brussels (grant A11/0387), BELSPO (Brussels) through project S2-ART (SD04A) and FWO (Brussels) via grant G.0C12.13. Support was also received from NWO (Den Haag) via the Science4Art programme. Additionally the University of Antwerp Research council in acknowledged for granting a PhD scholarship to S.L. The authors are indebted to the staff of the Groeninge museum for their assistance with the MAXRF measurements.
Authors' Affiliations
(1)
Department of Chemistry, University of Antwerp, Antwerp, Belgium
(2)
Photon Science, Deutsches Elektronen Synchrotron (DESY), Hamburg, Germany
(3)
Department of Materials Science, Delft University of Technology, Delft, The Netherlands
Copyright
© Legrand et al.; licensee Chemistry Central Ltd. 2014
This article is published under license to BioMed Central Ltd. This is an Open Access article distributed under the terms of the Creative Commons Attribution License (http://creativecommons.org/licenses/by/4.0), which permits unrestricted use, distribution, and reproduction in any medium, provided the original work is properly credited. The Creative Commons Public Domain Dedication waiver (http://creativecommons.org/publicdomain/zero/1.0/) applies to the data made available in this article, unless otherwise stated.