Research article
Open Access
Damage function for historic paper. Part I: Fitness for use
Received: 6 July 2015
Accepted: 19 October 2015
Published: 27 October 2015
Abstract
Background
In heritage science literature and in preventive conservation practice, damage functions are used to model material behaviour and specifically damage (unacceptable change), as a result of the presence of a stressor over time. For such functions to be of use in the context of collection management, it is important to define a range of parameters, such as who the stakeholders are (e.g. the public, curators, researchers), the mode of use (e.g. display, storage, manual handling), the long-term planning horizon (i.e. when in the future it is deemed acceptable for an item to become damaged or unfit for use), and what the threshold of damage is, i.e. extent of physical change assessed as damage.
Results
In this paper, we explore the threshold of fitness for use for archival and library paper documents used for display or reading in the context of access in reading rooms by the general public. Change is considered in the context of discolouration and mechanical deterioration such as tears and missing pieces: forms of physical deterioration that accumulate with time in libraries and archives. We also explore whether the threshold fitness for use is defined differently for objects perceived to be of different value, and for different modes of use. The data were collected in a series of fitness-for-use workshops carried out with readers/visitors in heritage institutions using principles of Design of Experiments.
Conclusions
The results show that when no particular value is pre-assigned to an archival or library document, missing pieces influenced readers/visitors' subjective judgements of fitness-for-use to a greater extent than did discolouration and tears (which had little or no influence). This finding was most apparent in the display context in comparison to the reading room context. The finding also best applied when readers/visitors were not given a value scenario (in comparison to when they were asked to think about the document having personal or historic value). It can be estimated that, in general, items become unfit when text is evidently missing. However, if the visitor/reader is prompted to think of a document in terms of its historic value, then change in a document has little impact on fitness for use.
Keywords
Heritage managementConservationHeritage valuesFitness for usePsychometricsStatistical experimental design (DOE)
Background
In heritage management damage functions are used to model change in relation to environmental variables and other stressors, e.g. use. Damage functions are defined as 'functions of unacceptable change to heritage dependent on agents of change' [1], reflecting the fact that the term 'damage' reflects both the state of an object and the stakeholders' value of the level of change to that object that is unacceptable.
In our previous work [2], we quantitatively investigated the value users attach to library and archival heritage. The study involved 543 respondents in a variety of contexts: historic houses, reading rooms and exhibitions. Users were shown to have well-defined attitudes to objects, broadly characterised within nine categories: 'Future Value', 'Public Value and Evidence', 'Understanding the Present', 'Content and Learning', Personal Meaning and Identity', 'Discovery and Engagement', 'Rarity', 'Materials and Sensory Experience' and 'Connection to the Past'.
In the same work, we also investigated stakeholder attitudes to the future use of collections, and identified that ~90 % of users defined as visitors or readers, would want collection items to remain in a usable state (readable, or suitable for display) for the next 500 years. The most frequent response, around half of respondents, was 100 years. This corresponds to another study [3], where a similar question was posed to 187 experts curating or researching geological collections. This study reported ~70 % satisfaction with the same preservation horizon of 500 years. Other studies of perspectives on attitudes to the future have produced horizons of the same order of magnitude, if not necessarily the same particular horizon [4]. This is essential evidence for underpinning collection management protocols.
To effectively manage change of cultural heritage, we need to answer the question of how users interact with such change as well as whether different values affect such interaction.
This question is complex, as there are many processes of physical change, as well as values applied by users. It is also well known that such interactions might reflect the presumed 'use' of an object [5]. In this paper, we will define 'use' as the mode or context of use, for example display (objects are observed without handling) or reading, which involves manual interaction. There may be other purposes, depending on the type of interaction in question, including, e.g. storage.
The concept of use allows us to assess whether an object is fit for a type of use. As a term, fitness for use is similar to 'condition', although it does not include the susceptibility of an object to degrade as a criterion of condition. The concept of fitness for use is more meaningful because if an object is unfit for a particular use, a change in how it is accessed is required. For example it may need to be removed from an exhibition, or use may only be allowed under supervision.
This implies that benefits can no longer be accrued from interaction with such an object, meaning that its value for the particular type of use has been consumed and that the object reached the end of its lifetime (Fig.
1
), unless an investment in a conservation intervention restores its fitness.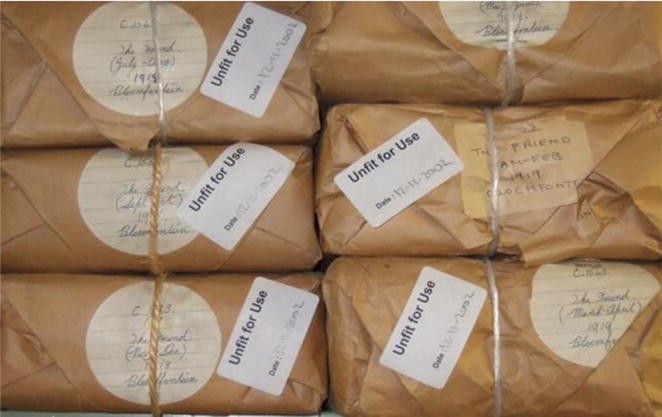 Since accrual of benefits occurs in the interaction between objects and users, it is useful to explore how users define the metrics of fitness. A number of methodologies have been developed for this purpose, most of which are based on psychometrics [6] and standard procedures exist for estimating aspects of image quality using psychometric scaling [7–9]. Psychophysics is the field of quantitative studies of perception, examining the relations between observed stimuli and responses. It allows for the relation to be extracted, while providing a reason for it [10] and has found application in different fields, from occupational and clinical health [11, 12], to politics and law [13].
Psychophysical studies are broadly divided into two main classes. Threshold methods are based on the energy a user can just detect, such as the decibel level at which sound can be heard. These methods are used when detection of a stimulus is the factor of interest. Supra-threshold methods are used in instances where the stimulus is easy to perceive, and are used to discriminate between stimuli, such as discrimination between sounds [14].
The work on acceptable colour change focussed on threshold methods and the concept of 'just noticeable difference' (JND). JND represents "a stimulus difference that leads to a 75:25 proportion of responses in a paired comparison task" [15]. In assessment of image perception, this concept is used not only for colour changes, but all visually perceivable aspects of image quality e.g. blurring and contrast, as well as other aspects of image quality [16].
In the heritage field, this concept, including the synonymous term 'just perceptible colour difference', JND has mainly been used to understand the effect of illumination [17–20] despite the fact that the magnitude of a just noticeable difference remains ill-defined. If a more precise definition were in place [21], the timeframe for acceptable change could be defined as well. The concept of JND is well suited to measure the visual ability, rather than the viewer's perception of change in an image [22].
To determine fitness for use, concepts other than JND might be more useful, such as category scaling. The goal is to assign numbers to perceptual events, the benefit of which is that it allows for direct observer response to changes, although restricted to only a number of categories [23]. Category scaling methodologies exhibit high stability and lead to low participant stress [24]. Standard category titles have been developed which can be useful [25].
In this paper, we explore the attitudes of library and archival users to what could be defined as damage, i.e. the threshold at which change is no longer acceptable by users. We do this in the context of two types of use: reading and exhibition, and three contexts of value: pre-assigned personal or historic value, and no pre-assigned value.
Results and discussion
The premise of the workshops was that users have determinable acceptance levels for states of documents when considered for particular use and with specific attached values, and that these acceptance levels can be revealed through the fitness-for-use workshops. The acceptance levels represent thresholds of damage, whereby users combine their visual observation of a physical state with a judgement of what state is required for a particular type of use. Conversely, damage is defined as loss of fitness for use (unacceptable change).
At the Library of Congress, the workshops were mostly carried out in the exhibit room, which provided an ideal context for the display scenarios, and only 15 responses were collected in the reading rooms. On the other hand, in the Wellcome Library, all of the responses were collected in the reading rooms, providing the context for scenarios H–R, P–R and R–R. At The National Archives, the workshops were carried out in a space which was separated from the reading room and from the exhibition space, so both modes of use could be explored.
It appears that most assessors looked for a connection between the textual content of the document and a historic event or a personal circumstance. In the case of H–R and H–D, the most frequent associations were with the Civil War (in the US context) or with WWI or WWII (in the UK context). In the case of P–R and P–D, the key words are family, diary, grandfather, letters, history and war, indicating that the prompts were potentially successful. This indicates that participants responded positively to the value suggestions given to them by workshop assistants, who helped if the participants expressed difficulties with suitable associations. An analysis of the Historical and Personal value scenarios could thus be meaningful.
In this equation, terms 1–6 represent linear and quadratic terms representing the three aspects of deterioration without any interaction, while terms 7–9 represent interaction terms. If the interactions are significant, then coefficients c 7, c 8 and c 9 should be statistically significant (p < 0.05).
After the response surface model is developed on the basis of actual participant responses (FfU), the actual responses can be compared with the calculated (modelled responses), and the quality of the correlation between actual and modelled FfU values can be explored using linear regression, and expressed as R 2, i.e. the squared regression coefficient—the closer it is to 1, the better the model.
The other interactions, T × D and T × MP are mostly statistically significant, although they contribute little to the overall score, as the coefficients are small. It seems therefore that tears and missing pieces seem to be also mainly observed as independent aspects of degradation.
Another interesting observation is that tears mostly contribute insignificantly to the overall score, although they seem to be more important in the context of manual handling (scenarios H–R, P–R, R–R). Readers seem to be concerned with tears if they need to handle an object: tears have an impact on how a reader holds a document—e.g. how easy it is to turn a page or pick a document up without damaging it further.
Overall, it is evident that the quadratic term MP × MP contributes most to the overall score, indicating that users are mostly concerned with the textual content of a document. This is in agreement with the data presented in Fig. 5.
The Historic value scenario significantly differs from other scenarios in that both the Constant and the MP term coefficient are significantly different from the other four scenarios, while the quadratic term coefficient is similar for all of them. With the linear term being negative for the H–D and the H–R scenarios, this means that the FfU responses for these value scenarios will be overall more similar, leading to the conclusion that with a historic document in mind, users mind least about how distressed the documents are, regardless of the access context, i.e. display or reading.
There seems to be a further minor, although statistically significant difference between H–D and H–R, i.e. for display purposes, the aspects of degradation are least important and most documents were considered 'Good' or 'Quite good' ('Reasonably good'), as is also evident from the corresponding frequency plot in Fig. 4.
The other scenarios, P–D, P–R, R–D and R–R, are similar. This leads to the conclusion that users were unable to identify with the personal value prompt, and this is no longer taken into account in the analysis to follow.
However, scenarios H–D and H–R show a different picture to the rest. Regardless of the size of the missing piece (the largest missing piece was ~1/6 of a page), assessors never consider a historic document to be unfit, regardless of the context of use, i.e. display or reading. In the context of collection management, the physical state of a document of historic significance is not considered to be particularly important to its fitness.
On the other hand, if the document was considered to be a random archival document, the point at which users assess it as unfit for use can be defined, and is estimated graphically in Fig. 8. This point is the same, regardless of the context of use, i.e. display or reading.
With a missing corner of a page not containing any text, most users were of the opinion that the document was 'Quite good'. However, if the text was evidently affected at which the state of a document became unacceptable (i.e. damage [1]). At this point, the value of MP is ~1.5 (Fig. 8). While on the basis of this experiment it is not possible to estimate how much missing text this level of deterioration represents, the estimation that any missing text will significantly affect the level of satisfaction is meaningful.
Conclusions
We explored attitudes of users to visually observable material change in paper documents, with the aim of understanding what extent of degradation is characteristic of objects that are no longer fit for use in the specific contexts of display or reading with handling, and when different types of values are elicited. In collection management practice, such extent of degradation could be seen as the end of lifetime for the particular mode of general access, and environmental and access practices could be adapted to optimise the lifetime as required. By taking the views of users into account we also make collection management more publically accountable.
Fitness for use was assessed in user workshops, where 331 participants were confronted with a number of differently distressed objects. The aspects of degradation explored were those of interest to practical collection management: gradually accumulating and possibly preventable or, at least, slowed down. This ensures that the assessed fitness thresholds are of practical significance and applicability. Fitness is affected by a number of aspects, such as:
The values, reflected in the attitudes of assessors to the objects.

If an archival object is perceived to be of historical value, even large missing pieces do not make it unfit for some uses, as opposed to those documents for which no value is elicited. It is questionable, however, whether the value modalities can be taken into account in the management of large collections of objects of similar significance due to resource issues.

The aspects of degradation studied.

For archival documents, changes in colour and tears contribute to the overall assessment to a minor extent, whereas missing pieces contribute most.

The purpose, or context of object use.

There are statistically significant differences between how fitness is assessed for archival documents that are intended to be displayed and for those intended to be read. In the latter case, aspects of mechanical degradation (tears, missing pieces) are more important.

The document's information content.

In the case of documents for which no particular value is elicited, obviously missing text in a document leads to that document being assessed as unfit for use.
Having defined the threshold fitness for use for paper-based documents, and the long-term planning horizon in which this might be acceptable, a dose–response function is required that enables us to calculate the accumulation of tears and missing pieces as a consequence of frequency of use, as well as loss of strength as a consequence of natural ageing. We will explore this in Part II of this series of papers.
Abbreviations
CCD: central composite design; DOE: design of experiments; FfU: fitness for use
Types of physical deterioration
T: tears; MP: missing pieces; D: discoloration
Workshop types
H–R: workshop scenario assuming the object being of Historical (H) value, assuming the object being read while manually handled (R—Reading);

H–D: workshop scenario assuming the object being of Historical (H) value, assuming the object being read from a distance (D—Display);

P–R: workshop scenario assuming the object being of Personal (P) value, assuming the object being read while manually handled (R—Reading);

P–D: workshop scenario assuming the object being of Personal (P) value, assuming the object being read from a distance (D—Display);

R–R: workshop scenario assuming the object being of no pre-assigned, Random (R) value, assuming the object being read while manually handled (R—Reading);

R–D: workshop scenario assuming the object being of no pre-assigned, Random (R) value, assuming the object being read from a distance (D—Display).
Declarations
Authors' contributions
MS, CMG, CD, NB, KF, PB, EM, KN, WL, DT jointly developed the concept of this work. CMG, CD, KN, DT, FF, GDB organised the workshops and developed guidance for assessors. MS, CMG, CD and EM produced the samples. MS, CMG and CD analysed the data. All co-authors contributed to the manuscript. All authors read and approved the final manuscript.
Acknowledgements
The authors are grateful to colleagues who helped organising workshops at The National Archives (Kew, UK): Carolien Coon, Hannah Clare, Dinah Eastop, Richard Williams; Library of Congress (Washington DC, USA): Cindy Connelly Ryan, Meghan Wilson, Matthew Kullman, Ray Privott, Mark Sweeney, Dianne van der Reyden, Hans Wang; Wellcome Trust Library (London, UK): Gillian Boal, Carolien Coon, Stefania Signorello, as well as at the Nationaal Archief (The Hague, The Netherlands), where a preliminary test workshop was organised: Gabrielle Beentjes and Roberto Padoan.
We are particularly indebted to 331 volunteers who took part in the fitness for use workshops.
Competing interests
The authors declare that they have no competing interests.
Open AccessThis article is distributed under the terms of the Creative Commons Attribution 4.0 International License (http://creativecommons.org/licenses/by/4.0/), which permits unrestricted use, distribution, and reproduction in any medium, provided you give appropriate credit to the original author(s) and the source, provide a link to the Creative Commons license, and indicate if changes were made. The Creative Commons Public Domain Dedication waiver (http://creativecommons.org/publicdomain/zero/1.0/) applies to the data made available in this article, unless otherwise stated.
Authors' Affiliations
(1)
Institute for Sustainable Heritage, University College London, London, UK
(2)
The National Archives, Richmond, UK
(3)
University of East Anglia, Norwich, UK
(4)
English Heritage, London, UK
(5)
Library of Congress, Washington DC, USA
(6)
Nationaal Archief, The Hague, The Netherlands