Research article

Open Access
Hexi painting on Xitian Fanjing, a Qing imperial Buddhist temple in Beijing, China: technology revealed by analytical approaches (an initial report)
Received: 23 September 2016
Accepted: 22 November 2016
Published: 14 December 2016
Abstract
Hexi painting
(和玺彩画) was historically documented as the most sophisticated decorative art representing the highest levels of technological knowledge and skills for decorating the Chinese Qing (1644–1911 AD) imperial architecture. However, the technological complexity of
Hexi painting
has barely been scientifically investigated. This article presents a technical case study that aimed to promote a better understanding of (inorganic) materials used in, and the painting/decorating procedure of,
Hexi painting
. Microscopic examination, compositional analysis, and phase/fiber identification were applied on fragments of
golden
-
dragon Hexi painting
(金龙和玺彩画), the most prestigious form of
Hexi painting
, which were sampled from
Xitian Fanjing
(西天梵境) in Beihai Park (Beijing, China). The results suggest that neither the kinds of used (inorganic) materials nor the painting/decorating process is exclusively restricted to
Hexi painting
and distinguishes it from other contemporaneous decorative forms. It is the combination of material use and the painting/decorating procedure that seems to make
Hexi painting
special. Further studies are needed to investigate the use of organic materials in
Hexi painting
to expand our current understanding.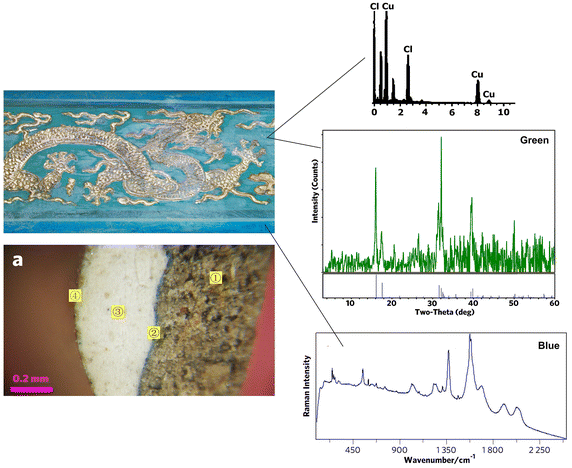 Keywords
Hexi painting (和玺彩画)RamieIndigoRamanBrick powderChalk
Background
Hexi painting (和玺彩画) refers to a specific kind of polychromed paintings (known as caihua 彩画 in Chinese) decorated on the exterior or interior surface of Chinese Qing (1644–1911 AD) imperial wooden architecture (such as palace and temples for residence and religious use by the royal families). Textual analysis points out that Hexi, a historically recorded term, refers to a highly organized and specialized painting and decorative technique that incorporates all the best-known technical skills (carving, coloring, embossing, etc.) into one single decorative form and results in highly precious painting and decoration [1]. If this interpretation is sound through time and across regions, it instantly makes Hexi painting the most representative architectural decorative art throughout the 270-year-long Qing history. A series of content and textual analyses on Hexi painting has been carried out since the 1980s, regarding its history and development in different stages of the Qing Dynasty [1–3], technical features and possible application procedures [4], patterns/decorations and their stylistic and aesthetic implications [2, 3, 5, 6], and so forth, which greatly advances our understanding of Hexi painting as a combination of the highest levels of technical knowledge and skills and the most popular religio-aesthetic needs of the Qing royal families. Two other useful sources of information contribute to the understanding of Hexi painting as well: observations on painting and decoration practiced by present-day Chinese craftsmen in imitation of ancient architectural decorative art (Hexi painting in particular) on modern pseudo-classical architecture or in architecture conservation projects; and analytical studies on materials used in the preparation of and on Hexi painting. Of the above three, textual analysis has often encountered doubts and uncertainties regarding interpretation of historical terms and records, while crafting skills/techniques are always modifying and changing over time and place and often result in unpredictable changes in technological details. In this respect, analytical studies become a more reliable source of information in that they can confirm and complement the other two approaches by revealing the actual use of materials and the way they were used.
Unfortunately, published analytical studies on Hexi painting have been very rare. Unlike many other painting forms in the Qing and previous periods, Hexi painting demonstrates a greater technological complexity as it combines carving, coloring, embossing, and other techniques and involves the use of a wide range of materials. More importantly, its technological features were developed to serve the religio-aesthetic needs of a particular group of people with power, authority, and wealth, and therefore must be very carefully selected and developed. Given these observations and thoughts, comprehensive technical investigations into representative Hexi painting samples are required to help us understand: how exactly, from a technological and analytical perspective, did the Qing craftsmen apply Hexi painting to imperial architectural decoration, using what materials and following which application procedure? Results from such studies would not only bring new insights into the techniques that produced Hexi painting, but also have broader impact by allowing comparison between Hexi painting and other contemporaneous painting and decorative techniques, which advances our understanding of how technological choices were made to meet motivations of politics, religion, and aesthetic psychology in the Qing period. Technical studies on Hexi painting have more practical impact as well: it has direct influence on decision-making and conservation strategies for preserving and restoring the Qing wooden buildings upon which Hexi painting is decorated.
In this paper, we present a technical case study on Hexi painting fragments sampled from Xitian Fanjing (Western Paradise, 西天梵境), a Buddhist temple in Beijing, China. It aims to reveal, from a crafting perspective, how Hexi painting was prepared and applied to imperial temples. Cross-sectional examination of recognizable fiber, pigment/dye, and paint layers between the innermost and the outmost suggests the complexity of painting/decoration process and the elaborateness of preparation for Hexi painting. The subsequent layer-by-layer fiber/phase identification and compositional analysis add additional technological details. Finally, technical studies lead us to understand the technological features that make Hexi painting special.
Experimental
Hexi painting fragments
Xitian Fanjing
(
Western Paradise
, 西天梵境) is a Buddhist temple situated in the northwestern corner of the Beihai (
North Lake
, 北海) Park in Beijing. It was built in the Wanli (万历) period (1573–1620 AD) of the Ming Dynasty, known as
Daxitian
(
Great Western Skies
, 大西天) and used as a place for Buddhist scriptures to be translated and printed for the Ming royal families. In the year of 1759 AD, the Qianlong (乾隆) period of the Qing Dynasty, it was remodeled, rebuilt, and renamed as
Xitian Fanjing
. The last documented renovation of
Xitian Fanjing
occurred in 1775 AD. Therefore,
Hexi painting
on
Xitian Fanjing
is 240 years old (from 1775 AD till now) at least. The
Hexi painting
fragments investigated in this study were collected from
Tianwang Dian
(
Hall of the Heavenly Kings
, 天王殿), the main entrance to
Xitian Fanjing
. They were sampled from
Hexi painting
decorated on the horizontally aligned wooden beams underneath the outside eaves of
Tianwang Dian
.
Hexi painting
on these beams depicts vividly raised walking dragon pattern, in golden/white color and surrounded by cloud pattern, decorated against a dark emerald green and sky blue background. These painting and decoration patterns are recognized as
golden
-
dragon Hexi painting
(金龙和玺彩画, see Fig.
1
a), the most prestigious form of
Hexi painting
. The
golden
-
dragon Hexi painting
fragments, despite their small sizes, are large and thick enough to demonstrate cross-sectionally the ground layer (including a fiber layer and coat layers), paint layers continuously overlapping each other upon the ground one, and the final decoration on the outermost surface. Figure
1
b shows the outermost surface of one
golden
-
dragon Hexi painting
fragment, and Fig.
1
c is another fragment that retains residues of the ground coat layer, with a fiber layer underneath. A few smaller
golden
-
dragon Hexi painting
fragments, although not shown here, have two additional colors painted on their surfaces: black and dark red. All samples for analysis were kindly provided by the Beijing Municipal Institute of Culture Relics and Archaeology.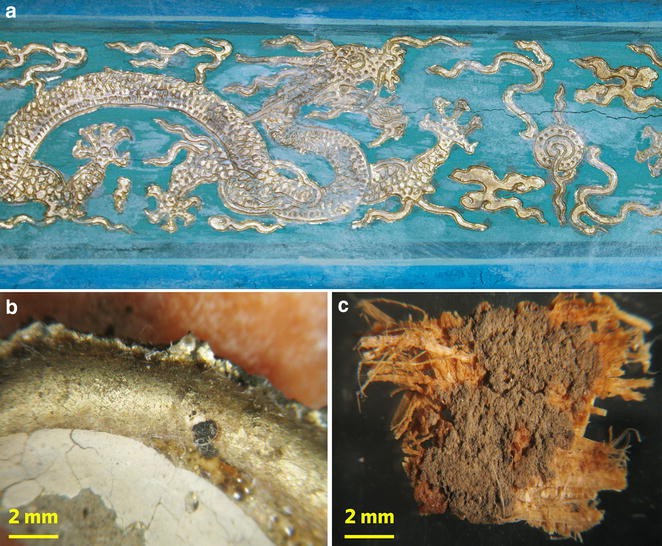 Stereoscopic microscopy
A Nikon SMZ1500 stereoscopic microscopy was used to assist the observation and examination of layers on cross sections of golden-dragon Hexi painting fragments. Selected fragments were polished by hand on water-proof sandpapers until a smooth surface was produced for better layer-structure examination. The cross-sectional observations offered insights about the decoration and painting procedure. The identifiable layers lay the basis for subsequent analytical studies carried out to explore technological details.
Scanning electron microscope with energy dispersive X-ray spectrometer (SEM-EDX)
A FEI Quanta 400 environmental scanning electron microscope (ESEM, Philips, The Netherlands) was used to help identify fibers noticed underneath the ground coat layer by offering super high-resolution images of fine features on fibers' longitude and cross-section views. Equipped with an Inca 300 energy dispersive x-ray spectrometer (EDX, Oxford, UK), the ESEM was operated at 30.0 kV and 60 μA, with a vacuum chamber pressure of 0.4–0.5 mb. In addition to the SEM identification of fibers, EDX was utilized to determine the kinds of pigment(s) and chemical composition of the golden color.
X-ray diffractometer
An MXP18AHF x-ray diffractometer (MAC Science, Tokyo, Japan), equipped with a Cu x-ray tube, was utilized to characterize inorganic substance(s) in the ground coat layer and pigment that produces the dark emerald green background on Hexi painting by determining their crystalline phase(s). The x-ray diffraction (XRD) unit was operated at 40 kV and 100 mA, with diffraction angle ranging from 10° to 70°. XRD patterns for reference materials (quartz, anorthite, atacamite) were cited from the International Center for Diffraction Data (ICDD) PDF cards (PDFs: 79–1906, 76–0948, and 71–2027).
Raman spectroscopy
The multilaser confocal Renishaw InVia Reflex Raman spectrometer (Gloucestershire, UK) was used to identify pigments and dyes that produce different colors on golden-dragon Hexi painting. Two excitations (514.5 and 785 nm) were tried to obtain the best Raman signals for each color (white, dark emerald-green, sky blue, dark red, and black). Raman spectra were recorded in wavenumber between 100 and 3000 cm−1, with spectral accuracy of about 1 cm−1. An optical microscope was used to focus the laser on samples, at ×50, throughout the analysis. Calibration is carried out on the Raman spectrometer on a daily basis using the Raman signal of silicon at 520 cm−1. Background spectra of water and carbon dioxide are obtained in ambient air. Raman spectra presented here were smoothed without baseline correction.
Results and discussion
As suggested earlier, our observations reveal multiple layers on cross section of each
golden
-
dragon Hexi painting
fragment. The general sequence and combination of layers remains the same for all investigated fragments, although minor differences are indeed noticed. Figure
2
a unveils a typical sequence of coat and paint layers on
golden
-
dragon Hexi painting
: (1) the ground coat layer, applied upon the fiber layer and identifiable as the first coat layer; (2) a blue paint layer, applied right on the top of the ground coat layer to serve as the sky blue background against which the golden dragon and cloud patterns are embossed; (3) a thick white paint layer that immediately follows the blue paint layer, which consists of dense, white substances that helped shape and emboss the dragon and cloud patterns; and (4) a thin gold-colored layer on the outermost surface of
Hexi painting
. Figure
2
b, on the other hand, suggests that some parts of the
golden
-
dragon Hexi painting
have an additional white paint layer, labelled as (5), on top of the gold-colored one. Given the fragment structure shown in Fig.
1
c, it is realized that both fragments shown in Fig.
2
a, b have a missing ground fiber layer that serves as the very bottom layer. Therefore, the major layer structure of
golden
-
dragon Hexi painting
upon the wooden surface can be illustrated in Fig.
2
c (layers not to scale). Further studies applied fiber/phase identification and compositional analysis to reveal the use of fiber, pigment and dye, and other materials in each layer of
golden
-
dragon Hexi painting
. Results from these analytical studies are presented following the layer structure illustrated in Fig.
2
c. Discussions are organized to tentatively explain how layers were prepared in the way they were.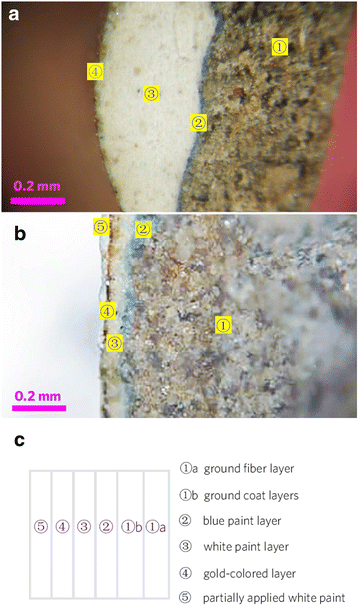 Conclusions
Analytical studies on golden-dragon Hexi painting fragments, which were sampled from Xitian Fanjing in Beihai Park in Beijing, China, made a few things clear(er) to us about Hexi painting: (1) there is a ground layer which consists of a ramie fiber layer at the very bottom and probably multiple coat layers (using fired brick powder as coating pigment) upon it; (2) both inorganic pigments (atacamite; lead white; hematite; carbon black) and organic dye (indigo) were used for coloring; (3) chalk was the material that created embossed dragon and cloud patterns; and (4) gold-silver foils was used to paint the outer surfaces of dragon and cloud patterns in a golden color. Considering that our study focused almost entirely on inorganic materials, further studies are needed to confirm the use of organic materials (oily materials, plant or animal glues, etc.) in the preparation of Hexi painting.
Declarations
Authors' contributions
NL provided the samples to be investigated in this study; JC, TZ, and HH carried out SEM-EDX, XRF, and Raman analyses, respectively; QF and SZ conducted a microscopic examination of the samples; TL and TZ interpreted the analytical results and drafted the manuscript. All authors read and approved the final manuscript.
Acknowledgements
This research was financially supported by the National Natural Science Foundation of China (Grant No.: 41103013). The authors would like to express gratitude to Mr. Yi Xu (University of Electronic Science and Technology of China, Chengdu, China) for his assistance with literature search. Ms. Jiali Wan (Sun Yat-sen University, Guangzhou, China) and Mr. Biao Cui (Zhejiang Provincial Institute of Cultural Relics and Archaeology, Hangzhou, China) also provided useful references.
Competing interests
The authors declare that they have no competing interests.
Open AccessThis article is distributed under the terms of the Creative Commons Attribution 4.0 International License (http://creativecommons.org/licenses/by/4.0/), which permits unrestricted use, distribution, and reproduction in any medium, provided you give appropriate credit to the original author(s) and the source, provide a link to the Creative Commons license, and indicate if changes were made. The Creative Commons Public Domain Dedication waiver (http://creativecommons.org/publicdomain/zero/1.0/) applies to the data made available in this article, unless otherwise stated.
Authors' Affiliations
(1)
College of Sociology and Anthropology, Sun Yat-sen University, Guangzhou, China
(2)
Max Planck Institute for the Science of Human History, Jena, Germany
(3)
Beijing Municipal Institute of Culture Relics and Archaeology, Beijing, China
(4)
Instrumental Analysis and Research Center, Sun Yat-sen University, Guangzhou, China
(5)
Emperor Qinshihuang's Mausoleum Site Park, Xi'an, China