Research article
Open Access
Identification of cellulose nitrate based adhesive repairs in archaeological pottery of the University of Melbourne's Middle Eastern archaeological pottery collection using portable FTIR-ATR spectroscopy and PCA
Received: 15 September 2016
Accepted: 23 December 2016
Published: 19 January 2017
Abstract
A previous study of the Cypriot pottery collection housed in the Ian Potter Museum of Art at the University of Melbourne found approximately two-thirds of adhesive repairs are primarily composed of cellulose nitrate (CN). This is of concern as CN has a limited lifespan (6–20 years), which has implications for the strategic management of the collection. To gain a greater understanding of the prevalence of CN based adhesive repairs in the archaeological context, the original FTIR-ATR spectroscopic survey was extended to incorporate the University's Middle Eastern archaeological pottery collection. Micro-samples were removed from artefacts using acetone swabs. Analysis of adhesive FTIR spectra identified CN to be present not only as the primary polymer in approximately one-tenth of repairs, but also as a secondary polymer in poly(vinyl acetate) (PVAc) and acrylic adhesive formulations, observed as a weak peak at ~1656 cm−1. CN's secondary presence in PVAc adhesive formulations is demonstrated using principal component analysis (PCA) and the diphenylamine spot test for CN. Re-analysis of adhesive IR spectra from the Cypriot pottery collection found CN to be present as a secondary polymer in this collection as well. It is concluded a combined methodology of collecting and identifying FTIR-ATR spectra of adhesive repairs from archaeological pottery collections followed by PCA analysis bring to light adhesive formulations which can inform the management of pottery collections.
Keywords
Cellulose nitrateFTIR-ATR spectroscopyPCAArchaeological potteryMiddle Eastern, Cypriot, cultural heritage
Background
Cellulose nitrate (CN) was commercially introduced in the 1870s [1–3] and has been widely used in objects, film, coatings and adhesives [4–7]. It is manufactured via controlled acid catalyzed nitration of cellulose using nitric acid and usually sulphuric acid [7–9]. When fully tri-nitrated, it was used as an explosive called 'gun cotton'. A more stable product resulted from the less completely di-nitrated substance [10]. Subsequent washing with water aimed to set the level of nitration and remove all acid residues [9]. To avoid a less stable product, it was found to be important to repeatedly wash the acidified cotton to ensure removal of all unreacted acid [7–9, 11, 12].
To overcome its brittleness, stiffness and tendency to shrink, plasticizers were employed to soften the polymer [1–3]. Over the past century it has been progressively plasticized with less volatile materials shifting from the use of oils and camphor (which volatilize rapidly causing polymer shrinkage), to phosphates and phthalates (which are less volatile) [4, 7, 8]. However non-volatile plasticizers like dibutyl phthalate (DBP) may migrate into adjacent porous material, again resulting in shrinkage of the polymer [7].
Plasticized di-nitrated CN found numerous applications [13] due to its ability to be molded into three-dimensional objects and dry to a thin transparent film. CN based artefacts can be found in a variety of collections worldwide, such as modern materials and technology through to ethnographic and ancient archeological collections. It was introduced to conservation for use as an adhesive, consolidant and coating in 1899 [7]. It has been particularly popular as an adhesive for reassembling archaeological earthenware vessels [14, 15] due to its ease of use and high glass transition temperature (Tg) of ~50 °C.
Materials
Adhesive control samples
Commercially available reference products were procured [
7
] as adhesive controls (Table
3
). CN based adhesives include HMG Heat and Waterproof (H Marcel and Guest) and UHU Hart (UHU). Acrylic based adhesives comprise Acryloid B-48N (Conservation Materials Ltd.), Paraloid B72 (Archival Survival), Paraloid B67 (Conservation Materials Ltd.), and HMG B72 acrylic adhesive (H Marcel Guest). CN has been identified in the HMG B72 acrylic formulation [
35
]. PVAc based adhesives consist of AYAF-PVAc (Conservation Materials Ltd.), Aquadhere PVA wood glue (Selleys) and UHU All Purpose (UHU). UHU All Purpose is known to contain some CN [
36
]. Protein based glues include: Gelatin (Asia Pacific Africa), Fish Glue (Lee Valley) and Rabbit Skin Glue (Talas).
Table 3
Commercially available control adhesive samples and associated information
Commercial product

Abbreviation

Supplier

Polymer base

Characteristic peaks (FTIR-ATR spectroscopy)

CN secondary polymer

Secondary polymer peak

Adhesives

HMG Heat and Waterproof

HMGHW

H Marcel and Guest

CN

1638, 1272, 822

–

–

UHU Hart

UHUH

UHU

CN

1638, 1272, 822

–

–

Acryloid B-48N

AB48N

Conservation Materials Ltd

Acrylic

1721, 1235,1140

–

–

Paraloid B72

PB72

Archival Survival

Acrylic

1721, 1235,1140

–

–

Paraloid B67

PB67

Conservation Materials Ltd

Acrylic

1721, 1235,1140

–

–

HMG B72 Acrylic Adhesive

HMGA

H Marcel Guest

Acrylic

1719, 1233, 1140

y [35]

1637

AYAF-PVAc

AYAF

Conservation Materials Ltd

PVAc

1729, 1225, 1018

–

–

Aquadhere PVA wood glue

PVAWG

Selleys

PVAc

1729, 1225, 1018

–

–

UHU All Purpose

UHUAP

UHU

PVAc

1729, 1225, 1018

y [36]

1653

Gelatin

GG

Asia Pacific Africa

Protein

1630, 1536, 1450

–

–

Fish glue

FG

Lee Valley

Protein

1630, 1536, 1450

–

–

Rabbit skin glue

RSG

Talas

Protein

1630, 1536, 1450

–

–

Plasticizers

Camphor

Cam

Hover

n/a

1738, 1044,1021

–

–

Dibutyl phthalate

DBP

Sigma Aldridge

n/a

1720, 1273, 1118, 1071, 739

–

–
Adhesive sampling from pottery collection for FTIR-ATR spectroscopy analysis
Easily accessible excess adhesive extruding from or smeared across joins on the vessel surface during past reconstruction were targeted for sampling. Adhesive material was visibly glossy in appearance in contrast to the matt earthenware fabric. It presents as beads, bubbles or surface films, non-uniform in quantity and thickness. In some instances, failing adhesives were observed to have stretched and pulled across the fabric (Fig.
2
). To reduce the risk of damaging original archaeological material and minimize the amount of material removed, a micro adhesive sample was collected from each pottery vessel using an acetone-dampened swab. Acetone was selected based on the known solubility profiles of CN, PVAc and acrylic [
7
]. Before significant solvent evaporation could occur, the resin was immediately transferred from the swab to the diamond window of the portable FTIR-ATR spectrophotometer. Following acetone evaporation an FTIR spectrum was obtained of the thin polymer film that had formed on the diamond window. Adhesive remaining on the swab was stored in a sealed glass vial for future GC-MS analysis, which aims to identify the plasticizer(s) in each sample. A total of 148 samples were collected from the 127 pottery vessels containing repairs.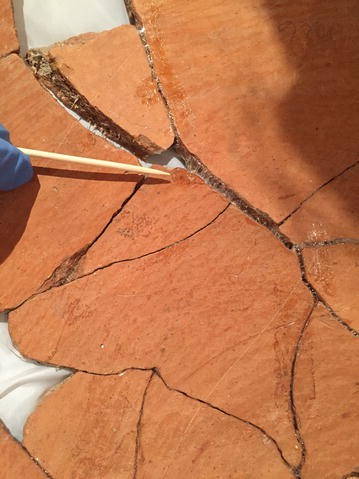 Adhesive sampling subset for chemical spot tests
A subset of vessels were selected from the Middle Eastern collection for chemical spot testing, based on: their availability (not on exhibition) and the presence of a significant amount of adhesive material, which was easily accessible. Twelve (0000.0352, 1960.0021, 1970.0331, 1970.0334, 1970.0440, 1970.0446, 1970.0449, 1970.0453, 1970.0456, 1970.0458, 1970.0474 and 1970.0478) were identified via FTIR-ATR spectroscopic analysis to contain PVAc (7) or PVAc + CN (5). Three (1970.0466, 1970.0335 and 0000.0339) were identified to contain acrylic (2) or acrylic + CN (1).
Conclusion
CN was found spread across the acquisition periods of the Middle Eastern collection. Although found in small quantities, it is present within the collection as major or a minor component of adhesive formulations. Either way, identification of the presence of CN can be used to inform collection management priorities. These results further qualify the findings of Nel et al. [24] for the Cypriot pottery collection survey and highlights that CN may be found in unexpected locations within museum collections. With the absence of treatment records, conservators are reliant in this context on scientific analysis for adhesive identification. Archeological collections provide an opportunity for studying and analyzing real life examples of aged CN, collection of spectra, enabling exploration of patterns of material use without damaging or removing original material from artefacts. This data set provides an opportunity for comparing the ageing characteristics of adhesives primarily consisting of CN and with those containing CN as a secondary component within a formulation. Surveys of other collection types are required to gain a thorough understanding of the potential extent of CN in collections. It is evident portable FTIR-ATR spectroscopy is an effective method for identifying polymers in collections, and is enhanced when combined with PCA for identifying a minor component like CN that may compromise adhesive performance. Where accessible, FTIR-ATR spectroscopy followed by PCA will ultimately prove useful for developing conservation management strategies, across a variety of collection types.
Abbreviations
CN:

cellulose nitrate
DBP:

dibutyl phthalate
FTIR-ATR:

Fourier transform infrared spectroscopy-attenuated total reflection
GC–MS:

gas chromatography–mass spectroscopy
HMGHW:

HMG Heat and Waterproof
HMGA:

HMG Acrylic
IR:

infrared
ME:

Middle Eastern
PC:

principal component
PCA:

principal component analysis
PS:

polystyrene
PVAc:

poly(vinyl acetate)
UHUAP:

UHU All Purpose
UHUCN:

UHU Hart
Declarations
Authors' contributions
PN, DL and EN initiated project, collected data (EN under the supervision of PN and DL), analysed data and contextualized results. All authors contributed to the final manuscript. All authors read and approved the final manuscript.
Acknowledgements
This research was undertaken as part of a collaborative project between the Grimwade Centre for Cultural Material Conservation at the University of Melbourne and Museum Victoria, with funding from the McCoy Project Seed Funding Scheme and through the Australian Government Research Training Program Scholarship. The authors acknowledge the contribution of the McCoy project team from: Museum Victoria (Maryanne McCubbin, Helen Privett, Dr Rosemary Goodall) and the University of Melbourne (Dr Alex Duan, Dr Augustine Doronila, Dr Andrew Jamieson, Assoc Prof Alison Inglis). Research assistants, Tim Ould and Kristine Allinson assisted with surveying the ME collection. The Ian Potter Museum of Art at the University of Melbourne provided access to the ME pottery collection.
Competing interests
The authors declare that they have no competing interests.
Availability of data and materials
Data and materials are not currently available as they are part of an ongoing project.
Open AccessThis article is distributed under the terms of the Creative Commons Attribution 4.0 International License (http://creativecommons.org/licenses/by/4.0/), which permits unrestricted use, distribution, and reproduction in any medium, provided you give appropriate credit to the original author(s) and the source, provide a link to the Creative Commons license, and indicate if changes were made. The Creative Commons Public Domain Dedication waiver (http://creativecommons.org/publicdomain/zero/1.0/) applies to the data made available in this article, unless otherwise stated.
Authors' Affiliations
(1)
Grimwade Centre for Cultural Materials Conservation, School of Historical and Philosophical Studies, Faculty of Arts, University of Melbourne, Parkville, Australia
(2)
CSIRO Manufacturing, Clayton South, Australia