Research article
Open Access
Pre-Columbian treponemal infection in Denmark?- a paleopathological and archaeometric approach
Received: 5 April 2013
Accepted: 5 June 2013
Published: 24 June 2013
Abstract
The aim of this paper is to investigate five new cases of possible treponematosis in early medieval Denmark. A total of 1018 skeletons from Danish and present day German cemeteries have been examined, and five candidates of pre-Columbian individuals have been selected from three Danish burial sites on Funen, Jutland and Zealand. The five individuals with a possible infection with treponematoses have been analysed anthropological and chemically.
Two of the skeletons exhibited cranial lesions, i.e. serpiginous and focal superficial cavitation. The other three only displayed periosteal reactions of varying degrees on the postcranial skeleton. Computed tomography scans showed focal obliteration of the periosteum on the long bones as well as on the affected skulls. Radiocarbon dates and stable isotope analyses indicate that three of the four analysed skeletons predate AD 1493. High levels of mercury in three of the individuals suggest that medical treatment with Hg-containing medicine took place.
Considering the climate and geography at the sites, venereal syphilis might be the treponemal disease causing the pathologies on the skeletal remains. However, the historical background, the bone lesions and their prevalence point to the presence of a less aggressive, maybe non-venereal, form of treponematosis. Consequently, the hypothesis that pre-Columbian venereal syphilis existed among the analysed skeletal material is rejected with the help of various archaeometric analyses.
Keywords
SyphilisTreponematosesOsteologyPaleopathologyMercuryRefshaleSt. AlbaniTirup
Introduction
Recently Ortner stated that "the presence of syphilis in the Old World before 1500 A.D. remains a very contentious issue…" [1]. For centuries researchers have discussed three main theories about the origin of syphilis. Especially one of the hypothesis, namely the existence of a pre-Columbian Treponema pallidum pallidum as the causative agent of venereal syphilis in the Old World has been and still is an on-going matter of dispute cf. [2–4]. The rash spread of the first sexually transmitted disease (STD) in Europe within a few years after AD 1493 has given cause for several discussions about its origin. Lack of evidence in the historical sources prior to this date suggests that venereal syphilis was completely unknown among the European population at that time. In accordance with the other European historical sources venereal syphilis does not seem to have reached Denmark prior to 1495 [5–7]. However, a precise year for the onset of the new disease cannot be given, especially because none of the sources were written prior to 1501 [8, 9]. Meyer et al.[10] explained the sudden numerous mentioning of a "new disease" in the literature with the invention of the printing press by Gutenberg in the middle of the 15th century. They also mention the possibility of misdiagnoses with other known diseases prior to the 16th century, which seems quite plausible since even today syphilis is called "the great imitator" [11], as its clinical manifestations in the human body are mimicking several other diseases [12]. The research of Harper and colleagues [13] disproved most of the alleged pre-Columbian dates of single findings of syphilis from the Old World and outlined the uncertain diagnosis of those dated before AD 1493. Only the Anglo-Saxon case described by Cole and Waldron [14] seems challenging and is according to Ortner [1] unlikely to be associated with a disease other than syphilis. There are however two possible finds of non-venereal treponemal disease from pre-Columbian England and Germany. Kuhnen et al.[15] present a case of possible treponarid in the skeleton of a knight from early 12th century Germany; and Stirland [16] describes four adult individuals with treponemal bone changes, which Rothschild [17] determined as classical lesions of yaws. Radiocarbon dates of calAD 1025–1290 supported a pre-Columbian time [13].
Previous research [18–20] provided the foundation for this study, which is part of the first extensive search for pre-Columbian treponematoses in Denmark and present-day Northern Germany. A total of 1018 individuals have been examined until now. The present paper focuses on five putative pre-Columbian cases from medieval Denmark with bone changes attributable to treponemal infection. We have used radiocarbon dating, mercury analysis as well as radiological imaging to support the osteological examination. The tentative conclusion is that venereal syphilis did not occur in Denmark before the great epidemic, but it cannot be excluded that another treponemal strain was present in Denmark prior to 1493.
Material and methods
Five skeletons have been selected out of 327 that were examined from the three cemeteries St. Albani (Funen), Refshale (Lolland) and Tirup (Eastern Jutland). The cemeteries were chosen on the criteria that they have archaeological dates including 1493 and because of their location (rural as well as urban). The objective was to look for significant differences in treponemal lesion prevalence. The burial site of St. Albani Church in Odense represented an urban population and encompassed a total number of 172 graves. The skeletal remains are generally badly preserved, which is due to several replacements caused by adding burials through a period of 400 to 500 years [21]. The archaeological date of the skeletal remains from St. Albani churchyard is between AD 1050 and 1530 [21]. According to Becher and Gregersen [22] it is likely that part of the burials were connected to the St. Knud's Church in Odense, which was combined with those of St. Albani after the demolition of the parish church. 114 individuals were examined from these two sites; three of them will be presented in this study. A total of 134 skeletons were examined from Refshale graveyard, which is situated in the Maribo district on Lolland, a major island southwest of Zealand. Refshale cemetery was in use from AD 1100–1350 [23]. Six individuals (graves 20, 34, 130, 161, 184, and 191) are of special interest, but only the skeletal material from grave 130 will be discussed here since it shows lesions on multiple bone elements.
The third cemetery included is that of Tirup which is located close to the medieval town of Horsens in Jutland and appears to have been in use from AD 1150 to 1350 [23]. The cemetery is said to be representative for the rural Medieval Denmark [24]. Only one out of 79 examined individuals were selected for this study. A complete statistical analysis of the churchyards is available in the Master thesis of Schwarz from 2009 [25].
Results
Macroscopical examination, dating and CT-scanning
The macroscopical examination of 375 skeletons from three Danish cemeteries revealed five skeletons of special interest because of their treponemal-like lesions and their possible pre-Columbian date (Table
1
). It should be noted that only some of the individuals meet the diagnostic criteria, while others show multiple of the on-trial lesions for treponematoses (Hackett [
2
]).
Table 1
Summary of the archaeometric analyses
Sample

Age group

Sex

Location

Lesion description

(after Hackett, 1976)

Calibrated radiocarbon date AD

(1σ)

Hg ± 1σ

(ngg-1)

St. Albani-89

adult

probably female

urban

Nodes with striation, superficial cavitation

1435-1456

374 ± 8

St. Albani-90

early adult

male

urban

Superficial cavitation and clustered pitting

1443-1466

388 ± 7

St. Albani-94

mid-adult

male

urban

Rugose nodes and expansions

1453-1494

390 ± 6

1602-1614

Refshale-130

mid-adult

female

rural

Finely striate and coarsely pitted expansions

1160-1212

22 ± 3

Tirup-292

early-adult

female

rural

Serpiginous cavitation

n.d.

25 ± 3
Mercury analysis
The Hg analyses of four femurs and one tibia bone samples showed high levels of Hg in three of the individuals. These three individuals are all are from the St. Albani churchyard in Odense. Samples taken from the femur bones of the individuals in grave 89, 90 and 94 revealed Hg concentrations of 374 ± 8 ng g-1, 388 ± 7 ng g-1 and 390 ± 6 ng g-1 respectively. All three individuals have severe bone lesions that could be caused by treponemal bacteria, and they have apparently been treated with Hg-containing medicine. The individuals from the Refshale and Tirup cemeteries had Hg concentrations as low as 22 ± 3 and 25 ± 3 ng g-1 (respectively), which imply that these individuals were not exposed to high amounts of Hg during their life, but exhibit Hg concentrations typical for the non-exposed individuals who are normally showing Hg concentrations between 10 and 100 ng g-1[47].
Discussion
The application of different methods in paleopathological studies does not necessarily prove or disprove a hypothesis, but it can help to build up strong evidence for or against it. In the case of possible pre-Columbian treponemal infection in skeletal material it is unavoidable to use radiocarbon dating for more precise dating than archaeological dating and dating by arm positions. For this study Hg analysis proved a good method to support the assumption, that the individuals have been suffering of some kind of disease causing the physicians to apply an Hg-treatment. The individuals could also have been otherwise in contact with Hg, but considering the severe bone lesions, Hg-containing medicine seems to be the most likely factor causing the high concentrations observed.
The radiocarbon ages do not completely coincide with the archaeological dates of the individuals. Only in the case of burial 130 from Refshale is seen a complete accordance. The skeletal material from Tirup cemetery was not dated with the radiocarbon method, since this cemetery has been studied extensively [53–55] and has been archaeologically dated prior to 1493 with certainty. The precision of the radiocarbon dates of medieval samples are often better than ± 25 to 30 years for the 1 sigma statistical uncertainty of the calibrated age interval [56]. However, if reservoir effects are present they can introduce an offset and an added uncertainty. Radiocarbon dating of skeletal remains from coastal regions can be affected by the marine reservoir effect, which makes the dates appear older than they really are. The marine reservoir age for open waters in the North Atlantic area and the open inner Danish waters is around 410 years, which should be kept in mind when interpreting bone material of humans who derived most of their diet from the sea. The percentage of marine carbon is estimated as follows: burial 90 from the St. Albani: 1%, St. Albani 94: 11%, St. Albani 89: 13% and Refshale: 13% (Table 1). These values differ substantially from e.g. those derived when analysing Viking and medieval settlements from Greenland [44], which showed a predominantly marine based diet from around the middle of the 13th century. The low amount of marine food in the diet of the analysed individuals in this study, therefore underlines the reliability of the radiocarbon dates what concerns the marine reservoir effect.
The results of the stable isotope analyses can be compared with studies of δ
13
C and δ
15
N from similar sites in Denmark and Sweden (Yoder Figure
7
[
57
]). The C:N-ratio of all four samples is ca. 3.4 meeting the accepted range of 2.9-3.6 defined by DeNiro [
58
] and even the narrow range of 3.1 to 3.5 suggested by van Klinken [
59
] for historical samples. Three of the analysed individuals, Refshale 130, St. Albani 89 and St. Albani 94 have δ
15
N values of 12.2‰, 12.5‰ and 11.7‰, respectively (Table
2
). As these δ
15
N values are enriched by 3–4‰ over the normal terrestrial food sources, this indicates a diet including a large proportion of freshwater fish [
60
]. As noted before a freshwater reservoir effects can be as high as 100 to 1000 years [
61
]. The radiocarbon ages of all three individuals can therefore be younger than the ages quoted here (which is without a freshwater reservoir correction) by an unknown amount. It is therefore possible that all three individuals can have died after 1493.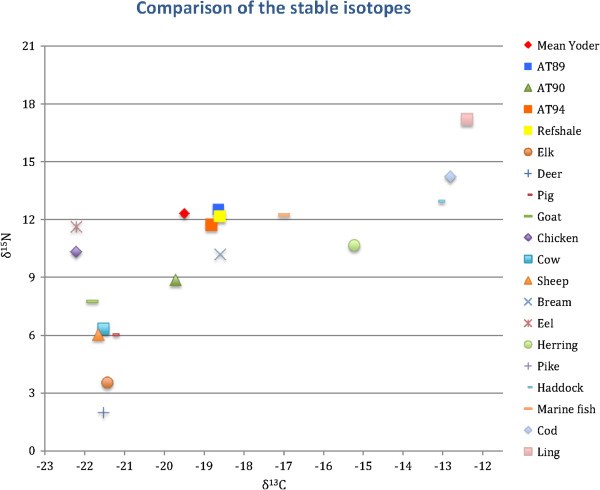 Table 2
Results of the radiocarbon dating
Sample

Archaeo-logical Datea

Uncalibrated age

(BP)

δ13C (‰)

δ15N (‰)

C:N

Estimated marine diet (%)b

Reservoir correctionc

Corrected 14C agec

(BP)

Radiocarbon date uncorrected for marine signature, 95% CI, (calAD)d

Radiocarbon date corrected for marine component, 95% CI, (calAD)e

Sct.Albani94

1250- 1350

425 ± 20

−18.82

11.73

3.4

11

55

380 ± 20

1434-1483

1447- 1521

1576–1582

1591- 1621

Sct.Albani89

n.d.

490 ± 25

−18.64

12.53

3.4

13

53

437 ± 20

1410-1446

1425- 1482

Sct.Albani90

1100- 1400

420 ± 20

−19.72

8.88

3.4

1

4

416 ± 25

1435-1488

1437- 1489

1604-1608

1604- 1607

Refshale 130

1250- 1400

925 ± 25

−18.61

12.18

3.4

13

45

870 ± 25

1029-1165

1047- 1089

1121–1139

1149- 1224
The δ15N results for burial 90 from the St. Albani churchyard, on the other hand, has a value of 8.9‰ which points, according to Yoder (p. 89 [60]), to a more terrestrial protein rich diet, for instance meat, milk etc. (5–10‰). This is also the only individual with a marine diet as low as 1%, which means that the radiocarbon age for this individual, can be considered to be completely reliable. This fact points to an error in the archaeological date by arm position (AD 1250–1400) as compared to reliable radiocarbon date of calAD 1443–1466 at 1 sigma.
Out of the five cases studied here, two cannot be excluded to be later than AD 1493. One individual, St. Albani 90, is for sure pre-Columbian, and has therefore the full potential to be a pre-Columbian case of treponemal infection.
According to Livington [62] the species that are restricted by geographical conditions are the oldest of the treponemal diseases and both the endemic and the venereal syphilis evolved out of one of these [63]. While the non-venereal forms are transmitted either via skin-to-skin contact or other non-sexual contact, it had to find a new way of transmission. That is probably why it adapted to a venereal form to evade the better hygienic conditions and to acclimatise to a colder climate [64]. Today, only 15% of all untreated patients with venereal syphilis develop bone lesions [65] this indicates an adaptation from an aggressive to a less aggressive disease. The most prominent pathognomonic changes of syphilis are those of the caries sicca sequence seen on the cranial vault [2]. This condition is present in one of the skeletons from St. Albani and in the one from Tirup. Lesions consistent with treponemal disease are found on several long bones, but only those in skeleton 90 from St. Albani are indicative of treponemal infection. The observed lesions are bilateral and systemic, as is characteristic for the treponematoses. Since tuberculosis can be excluded the focal superficial cavitations can be regarded as a diagnostic criterion for treponemal infection (Hackett p. 36 [2]).
Differential diagnosis
Possible differential diagnoses for treponemal like lesions are that of infectious diseases, such as leprosy and tuberculosis, Paget's disease, fungal infections, pyogenic osteomyelitis and bone tumours. Both Refshale and Tirup have been analysed for leprous bone changes earlier [66]. Boldsen [66] describes the destructive lesions on the facial and phalangeal bones as well as hyperostosis with or without exostoses on the tibia and fibula as characteristic bone changes for leprosy. Ortner [39] writes that this "…pathological reactive bone is most severe near the ankle and diminishes in severity toward the knee…". None of the five skeletons described in this paper shows any lesions diagnostic of leprosy. Tuberculosis is usually affecting the spine and the inner table of the cranium [38] while hypertrophic expansion of the long bones is described as unusual (p.163-4 [38]). Hypertrophic lesions are also unlikely for a fungal infection. Paget's disease is excluded for the cases described here, because no marble-like bone thickening was present on the CT scans [38]. Changes caused by pyogenic osteomyelitis are characterized by cloacae and sequestrate, but usually do not involve multiple skeletal elements (p. 163–4 [38]). Bone tumors can be metastatic carcinoma, osteogenic sarcoma, multiple myeloma and meningioma. Changes associated with bone tumors are solitary, lytic lesions (p.93 [41]) and periosteal reactions in the radiological image.
Conclusions
In the present study five skeletons were selected amongst 1018 Medieval Danish individuals as potential candidates of pre-Columbian venereal syphilis. The documented lesions of three of them only meet the descriptions of Hackett's on-trial criteria, but two are also displaying diagnostic criteria. The results of our analyses show that those two, Tirup 292 and St. Albani 90, can be securely dated to pre-Columbian times. The limitations of the study are that the results of the archaeometric analyses applied here cannot elucidate the origin of the probable treponemal bone lesions. However, the Hg analysis is found to be a helpful tool when analysing skeletal remains from the medieval times for pathologies. In the present case it revealed that three out of the five individuals with treponemal-like bone lesions had been treated (or otherwise in contact) with Hg-containing medicine. This supports historical sources, which describe the treatment of skin diseases, especially leprosy and syphilis, with Hg in the medieval time. This study therefore demonstrates that Hg was used for treating treponemal diseases. This particular form of medical treatment continued right up to near-modern times for venereal syphilis.
The current knowledge about modern clinical manifestations of the treponemes in the human skeleton allows us to conclude that some kind of treponemal infection was present among the examined skeletal material in the present study. The Danish historical sources do not mention a syphilis epidemic before the return of Christopher Columbus to the Old World in 1493. Considering the currently available data [13] there are no significant findings of venereal syphilis in our modern understanding of that disease in pre-Columbian Europe. The aggressive progress of syphilis described in the literature [9] is by no means presented in the analysed skeletal material. The osteological manifestations rather draw a picture of a more benign affliction. The phylogenetic analysis by Harper et al.[67] showed that the syphilis strain, Treponema pallidum pallidum, has a shorter history of evolution compared to that of the non-venereal strains. It is therefore generally agreed that venereal syphilis evolved from the 16th century to modern times and seems to have been a new disease to the Danish medieval population at the end of the 15th century.
The present study together with the research of Stirland [16] and Cole and Waldron [14] demonstrates that it becomes more evident that some kind of treponemal infection was present in the Old World prior to 1493. Perhaps strontium isotope analysis could give a hint to whether those single findings are a result of migration during the Middle Ages [68].
Declarations
Acknowledgements
The authors would like to thank the two anonymous reviewers for their constructive reviews, which significantly improved the manuscript. One of the authors wish to thank the Graduate School of Human Development in Landscapes in Kiel for research funding. We also thank Horsens Museum, Lolland-Falster Museum as well as Odense County Museum for the admission to use the skeletal material for non-destructive and destructive analyses. Jesper L. Boldsen is thanked for giving access to the skeletal material in the ADBOU collection. We would like to thank the Leibniz Laboratory for Radiometric Dating and Isotope Research in Kiel for conducting the radiocarbon dating, Ulrich Struck for performing the stable isotope analysis and Martin Heller from the Clinic of Diagnostic Radiology in Kiel and his employees for performing the CT-scanning, as well as Peter Leth for giving access to the CT-scanner at the Institute of Forensic Medicine at the University Hospital in Odense. Kristin Koetz is thanked for helping with the interpretation of the CT-scans and image editing, and Esther Lee for discussions.
Authors' Affiliations
(1)
Graduate School Human Development in Landscapes, Christian-Albrechts University Kiel, Kiel, Germany
(2)
Department of Human Biology, Zoological Institute, Christian-Albrechts University Kiel, Kiel, Germany
(3)
Institute of Physics, Chemistry and Pharmacy, University of Southern Denmark, Odense, Denmark
Copyright
© Schwarz et al.; licensee Chemistry Central Ltd. 2013
This article is published under license to BioMed Central Ltd. This is an Open Access article distributed under the terms of the Creative Commons Attribution License (http://creativecommons.org/licenses/by/2.0), which permits unrestricted use, distribution, and reproduction in any medium, provided the original work is properly cited.