Fine particulate matter in indoor cultural heritage: a literature review
Received: 11 February 2013
Accepted: 1 March 2013
Published: 3 April 2013
Abstract
Fine particulate matter is, on account of its aerodynamic properties and typical composition (especially diesel particulate matter and carbonaceous particles) the particulate pollutant potentially most harmful to cultural heritage, representing an aesthetic issue and an agent of chemical degradation simultaneously. This paper reviews the current knowledge of the life-cycle of fine particulates, focussing on diesel particulate matter from emission to deposition, including its aesthetic and chemical consequences, and draws attention to some imbalances in the current state of research. The currently available measurements are biased towards coarse dust, and information on the consequences of particle deposition is largely restricted to the outdoor environment. More evidence on the chemical effects of the most common types of fine particulate matter in typical indoor materials is needed to enable risk assessment for indoor collections.
Keywords
Fine particulate matterDiesel particulate matterSoilingDepositionResuspensionIndoor air qualityIndoor heritage
Introduction
Most museums, galleries, libraries and archives, as well as many historical palaces and houses, are located in urban centres, surrounded by a complex and changeable urban atmosphere. While the last twenty years have seen a great reduction in the emissions of the pollutants that have been typically considered more harmful for vulnerable heritage materials, scientific interest is shifting towards other pollutants and particulate matter (PM) has been a subject of great interest.
However, PM can be an elusive subject of study. Different sizes display different properties, typical sources and even different behaviours. Studies of PM in indoor heritage environments have generally focused on dust, which is one of the characteristic sizes -the largest- of PM. This bias towards coarse particles is evident if we look at the minimum diameter of the particles collected in different monitoring campaigns in the field of heritage science. A survey of 25 scientific papers [1–25], most of them reviewed here, with the keywords "heritage" and "particulate matter" reveal that 32% of them analyse only particles up to 10 μm and 16% include particles up to 2.5 μm, i.e. more than half of the studies did not look into submicron particles. If a study did take into account particles ∼0.5 - 1 μm, it is generally the lowest size mode considered (36% of cases) and no particles are studied under this value. Finally, in 92% of the cases, particles are studied in only two or one size modes (usually 2.5 and 10 μm). However, two size fractions are not enough to reflect the actual size distribution, which is only analysed in a minority (8%) of the studies.
Obtaining size distributions and specifically quantifying the amount of submicron particles is common practice in aerosol monitoring outside the heritage field. All these sizes, and not only large particles, have a certain role in indoor heritage environments. In fact, coarse particles exhibit characteristics of great interest to conservators: they are significant carriers of mass to surfaces, and, being bigger, are more likely to alter the visual appearance of objects. But their number concentrations are orders of magnitude smaller than the concentrations of fine particles, especially in urban environments. Additionally, the composition of coarse and ultrafine particles is also different, and while small particles might carry less mass, they may carry components of different reactivity.
This review deals with fine particles, i.e. all particles smaller than 1 μm, without excluding particles smaller than 0.1 μm, commonly referred to as ultrafine (UFP). This size range is clearly separated from coarse dust, and it includes pollutants of particular interest to conservation of cultural heritage. Special attention will be given to particles derived from combustion present in urban environments, particularly Diesel Particulate Matter (DPM).
The review serves a double purpose. First of all, it attempts to identify if fine and ultrafine particles can be regarded as a relevant risk to cultural heritage indoors. It also identifies multiple areas that require further research. Secondly, it aims to provide a guide to heritage managers and curators interested in the properties of this particular pollutant. While aerosols indoors have been studied in detail, no account exists of the distinct behaviour of fine particles. Since not many investigations deal directly with fine and ultrafine particles in heritage environments, this review will make use of work produced in other fields -aerosol science, environmental science, computational modelling- which can be applied to heritage at least partly.
Sources, trends, and projections
The term PM identifies all the particles that can be found in the atmosphere, in other words, those that can be suspended in air and transported by it before they deposit. This includes particles composed only of several molecules, with diameters around 0.01
μm
, up to coarse dust with diameters around 100
μm
. Samples of atmospheric PM usually display a very characteristic size distribution, clearly separated in three different size modes (Figure
1
) [
26
]. These modes are referred to as the nucleation, ultrafine, or Aitken mode (<100 nm), coagulation or accumulation mode (100 - 1000 nm) and coarse mode (>1
μm
). An alternative and common nomenclature is using
P
M
x
for all the particles smaller than
x
in
μm
, the usual values being 10, 2.5
μm
or, less commonly, 5 and 1
μm
. Although the use of this notation is widely spread, it makes an artificial division between the actual size modes. E.g.,
P
M
2.5
is in the middle of the coarse mode but is generally taken as a good indication of the amount of anthropogenic particulate pollutants in urban environments. This nomenclature is useful from the health perspective as it approximately denotes the fractions which can penetrate to different depths of the human respiratory system. It is not, as we shall see, particularly suited for heritage purposes. However, its status of a standard makes its use unavoidable.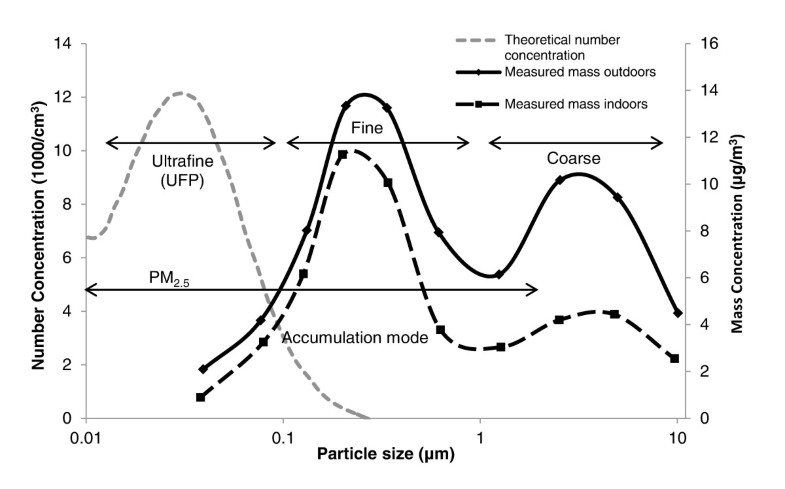 Given such a broad definition, it is natural that there are a variety of origins, sources and compositions of PM. Nonetheless, there are a limited number of relevant sources. The majority are related to energy production, and natural sources (such as sea-spray) are often negligible in comparison with the anthropogenic ones. Among them, the combustion of fossil fuels, especially in road transportation, has a prominent role.
In the UK, road transport is responsible for more than half of the particles of the smaller size ranges and around 20% of the larger [27]. This relative contribution is even greater in urban areas. At Marylebone Road, arguably one of the most polluted streets in London, traffic-generated particles make up to 27% of the P M10 mass concentration and 42% of the P M2.5[28]. Most road transport particles are due to diesel vehicles (e.g. 72% of USA road transport PM) [29]. Even though this picture varies greatly between regions, similar particle source apportionments have been reported by different studies carried out elsewhere [30, 31].
Emissions of all types of PM are predicted to decrease in the decades to come, including emissions of the smallest particles [32] due to the implementation of mitigation strategies such as diesel soot filters and the substitution of fossil fuels with alternative energy sources. Analysis of global emission trends under different scenarios reveal that emissions of traffic-generated PM will reduce in all the continents except in Africa, where they are predicted to increase 1.3 - 3.1% per year, depending on the scenario, due to economic development and ageing car fleet. Global emissions from vehicles will reduce 1.3 - 2% on average per year in the following 40 years [33]. China will achieve a reduction in emissions of black carbon of 9% by 2020 [34].
The PM concentration limit suggested by the World Health Organisation (WHO) [35] and the European Commission [36] for P M2.5is 25 μg/m3, and the US Environmental Protection Agency has suggested a value of 13 μg/m3. Even though these limits are exceeded in some regions, it is likely that they will be satisfied in the near future. However, WHO states as no threshold for PM has been identified below which no damage to health is observed, the recommended value should represent an acceptable and achievable objective to minimize health effects in the context of local constraints, capabilities and public health priorities [35]. The same logic may be applicable to heritage materials. It can be concluded that, even though emissions are gradually decreasing, traffic-generated pollutants will remain an important part of urban atmospheres for decades, especially in developing economies.
Particles derived from combustion
The laser-cleaning literature abounds with uses of the word "soot", referring to dark deposits on indoor and outdoor materials. However, no standard description or characterisation of soot exists. The concept of "black carbon", extensively used in aerosol and environmental science, suffers from a similar imprecision, sometimes used interchangeably with soot [37].
What is clear is that fine particles (P M1) mostly originate from combustion processes. Morphology and composition of these particles varies with the source to some degree: burning of candles, coal, tobacco or diesel fuel. These particles also have common features: a high content of inorganic carbon that will display high light absorbance, combined or coated with traces of other elements, and an aggregate-like shape.
Diesel particulates
A typical diesel particulate is shown in its graphic representation in Figure
2
a and a TEM micrograph in Figure
2
b [
38
]. Diesel particulates in the accumulation mode have a distinct morphology consisting of a self-similar agglomeration of primary particles, which has led some researchers to use fractality as a characterisation factor [
39
]. These primary particles are mainly composed of elemental carbon with metallic traces, and are coated with a layer of organic carbon and sulfate. This composition is subject to some variability as it depends on the engine type, the engine load and the fuel used. Total carbon usually accounts for 75 - 90% of the overall mass [
40
], and the metal traces can include, in the order of relative abundance: Ca, Fe, Mg, Zn, Cr, Ni, Ba, Pb [
41
,
42
]. Elemental carbon (EC) is a characteristic component of DPM, which is typically the source of 90% of the EC in urban environments [
43
]. Organic Carbon (OC) may be emitted directly into the atmosphere or can be formed in gas-to-particle atmospheric processes (secondary aerosol). EC, on the other hand, emerges primarily from the combustion of carbonaceous matter, and its presence is generally regarded as a good indicator of the fossil fuel combustion origin of PM, especially in urban areas. Recently, however, it has been claimed that atmospheric EC can originate from sources other than diesel exhausts [
31
,
44
], which makes source apportionment difficult. Polycyclic aromatic hydrocarbons (PAHs) and
n
-alkanes have also been suggested as possible tracers for different particulate pollutants generated by road traffic [
45
].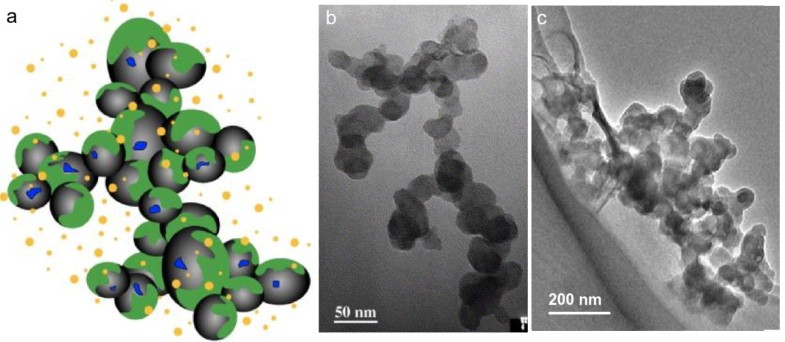 Other combustion particulates
Even though this review focuses on particles of outdoor origin, mention should be made of other specific sources of fine and ultrafine particles which may be of interest. Candle-burning soot, for example, is commonly associated with indoor deposits in temples and churches. It has been found that the amount and composition of particles emitted from candles depend on the burning mode. If the flame is in steady state, it emits a relatively high number of ultrafine particles dominated by either phosphates or alkali nitrates originated from additives. Sooting burn, in addition, emits larger particles mainly consisting of agglomerated elemental carbon, with a morphology which is similar to DPM [47] (Figure 2c). Particles with the same morphology [46] and similar composition can be emitted during cooking [48], an activity not unusual in large heritage sites and museums. A "black deposit" or "soot deposit", must, therefore, be assessed with care in order to identify the most likely origin of the particles.
Concentration trends indoors
The indoor PM concentration is generally a reflection of the outdoor concentration. Certain indoor activities represent exceptions to this rule. It has long been established that different activities, such as cooking, housework, or simply any physical activity, result in concentration peaks over the baseline set by the outdoor concentration [49]. The frequency of these activities in heritage environments, and the efficiency of air cleaning systems define the daily PM pattern.
Fine PM such as DPM originate from outdoor sources, and the events that can cause a drop or a sudden increase in its concentration are rare. Figure
3
shows the variation of fine particle (d <1
μm
) concentration in a roadside house. It can be clearly appreciated that the indoor concentration is a consequence of the outdoor concentration, except when particles are emitted during cooking activities.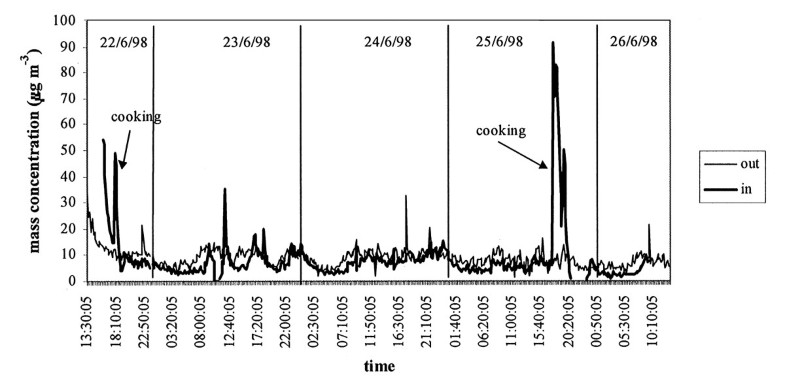 In heritage environments, indoor events that lead to emission of fine particles are uncommon. Actions such as cleaning, or physical activity cause variations in the concentration of the larger particles, but generally leave the smaller size modes unaltered. Figure
4
shows the variation of airborne particle concentration in the Correr Museum, Italy [
17
]. It can be appreciated that the peaks of 10, 5, 2, and 1
μm
particles, which correspond with the opening hours of the museum, as well as their high variability, are not reflected in the concentration pattern of the finer particles, which varies smoothly. Very similar temporal evolutions have been reported in the Anatomy Theatre of Padua [
7
] and in the Chiericati Municipal Museum of Vicenza, Italy [
50
]. As a general rule, while physical movement increases the number of coarse particles, actions involving heating tend to increase the concentration of the smallest particles. Air heaters, electrical radiators and stoves have been found to increase concentrations of particles between 0.02 - 0.1
μm
up to 100,000 - 200,000
particles
/
c
m
3
, while leaving larger particles unaltered [
51
].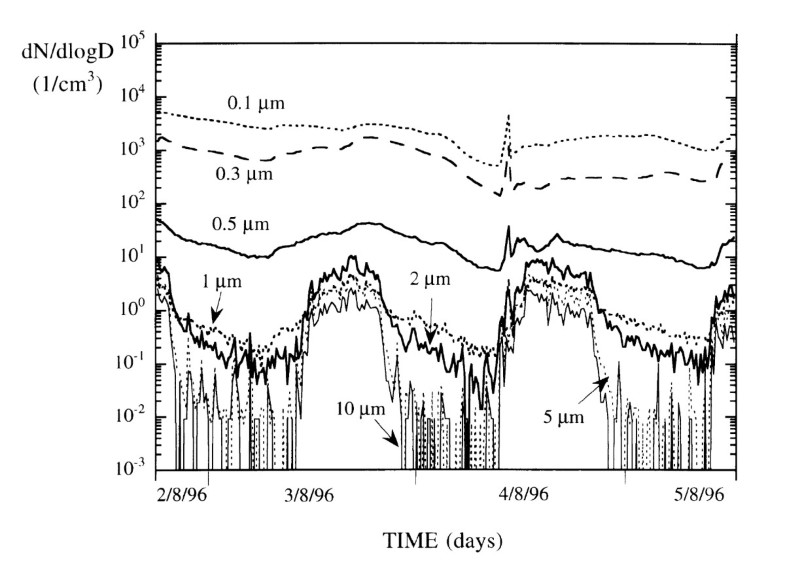 The mass and number concentrations seen in Figures 3 and 4 are representative of the typical concentrations in indoor environments. The average concentration of P M1 inside the Alhambra, Granada, Spain, was 17 μg/m3 in summer and 8 μg/m3 in winter [2], and its most abundant component was black carbon. Traffic was found to be the major source of fine particles. Between 10 and 20 μg/m3 of P M2.5 were detected in display rooms in the Plantin-Moretus museum in Belgium [19], and 40 μg/m3 in the Archaeological Museum of Thessaloniki, Greece [12]. If total suspended particles are measured, higher values should be expected, e.g. 60 - 70 μg/m3 inside the Wawel Castle Museum in Cracow, Poland [13]. At this site, particles containing elemental and organic carbon were found to be the ones that penetrate more easily into the museum. Even though particle concentrations in heritage locations are commonly measured in this manner, they tell us little about the fraction of fine particles that penetrate into these locations. Analysis of the bulk chemical composition of the collected particles is a common further step, but it is rare to find more detailed measurements of size distribution including fine particles. A good example are the detailed measurements taken in the Czech National Library in Prague [24], or in some Californian museums [25] which display a clear bimodal size distribution (Figure 1).
The indoor/outdoor ratio (I/O ratio) is widely used to describe the differences between the indoor and the outdoor environments [
52
–
55
]. There is a great variability in the measured PM I/O ratios in particular cases, but in general, some rules of thumb can be extracted from experience. Firstly, as shown in Figure
5
, the I/O will be higher for particles of size between 0.1 - 1
μm
. An explanation for this phenomenon is given by the aerodynamics of these particles, and will be further explored in the next sections. Secondly, I/O ratios for particles containing EC (which in urban atmospheres can be understood as DPM), the I/O ratio are typically 0.5 - 0.9 [
49
,
52
,
56
].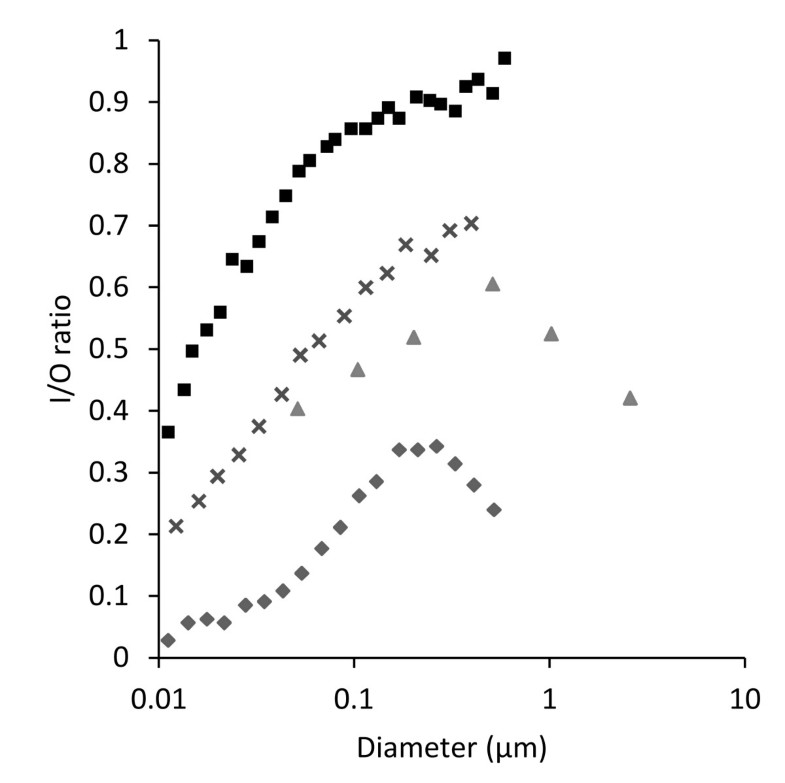 The life-cycle of fine particles indoors
Fine particulates penetrate into buildings not only through large openings but also through cracks and filter inlets. At the end of its indoor life, PM deposits on surfaces or is removed by mechanical or natural ventilation. Some particles, especially the larger ones, may be re-suspended and re-deposited. This set of inlets and outlets of PM summarizes all the steps that ultimately determine the extent of soiling of indoor surfaces. They have been extensively studied as separate phenomena, and considerable literature exists describing each process experimentally, or with empirical or semi-empirical correlations. The work of Nazaroff [
57
] is the only piece of work presenting a comprehensive summary of all the possible particle flows in any given building. There are other published balances of PM indoors [
58
], but generally, as they focus mainly on practical health issues, deposition is not studied nor are the minor penetration processes, such as leakage. Also, while health scientists are concerned with the free volume, heritage scientists should be concerned with the room as a whole, and consider both the volume and the surfaces. Figure
6
summarizes, in an approach similar to Nazaroffs, the main particulate matter fluxes in a room.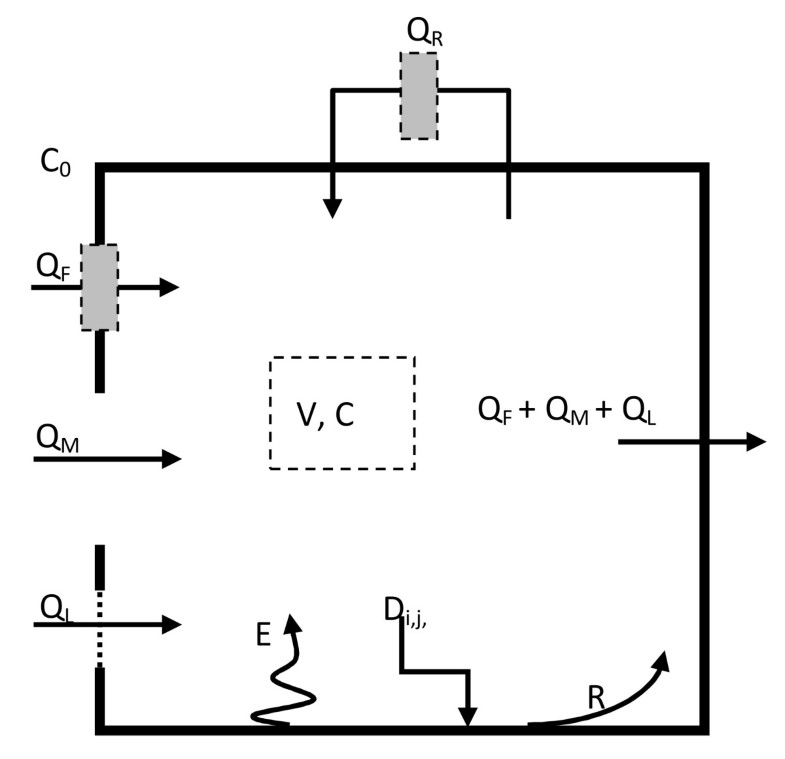 The consequences of deposition of fine particles
Deposition is a three-fold problem. First, mere deposition (or "dry" deposition) can cause area coverage and have a visual effect on the soiled object, a "visual nuisance", as it has been qualified in some of the most relevant investigations [100, 101]. Secondly, frequent or intense cleaning might have a negative effect on the underlying surface, as well as being a cost-intensive process. And finally, the deposited particles might interact chemically with the surface, creating a damage layer and producing irreversible degradation. Although evidence exists for all these phenomena, research has prioritized soiling on outdoor surfaces and particularly layers produced on stone. The following section attempts to describe these three processes indoors -visual nuisance, chemical damage and damage by cleaning- based on the understanding that evidence is scarce, and in some cases conclusions must be extracted from evidence obtained in outdoor experiments.
Conclusions
There is a certain ambiguity of the terms used to describe indoor PM in the heritage literature. There has been some discussion on how the staining of façades should be described (black crust formation, staining, darkening, blackening, soiling) [100, 146] but this discussion has not taken place for indoor heritage. As a consequence it is not clear what the word "soot" refers to in some cases. It can refer to carbon-based agglomerates in suspension, or the same particles deposited on a surface, or a black stain of unknown composition but of "carbonaceous" appearance, which might also be only a surface deposit. There is a need for the development of a more accurate terminology that makes a clear distinction between suspended fine particles (DPM, combustion-derived or even soot), dry deposition of these particles without further effects and removable with cleaning (which could be called darkening, or soiling), and the degradation layer formed due to the interaction of the deposit with the underlying surface.
PM monitoring in heritage sites is generally focused on coarse dust, and the two most frequently measured particle types are P M10 and P M2.5, which include particles up to 2.5 and 10 μm. This standard, however, has limitations. Measurements of P M2.5 sum up some particles from the coarse mode (>1 μm) and some from the fine mode (<1 μm) and therefore these values do not help to identify the fractions of fine and coarse particles, which would enable appropriate action to be taken. Complete size-resolved measurements of particle concentration would provide more information on the likely source and typology of particles; however, measurement of size distributions requires costly equipment. A much more informative and cost-effective measurement would be P M10 and P M1, or P M10−1 and P M1. In a heritage site situated in an urban environment, for example, these values would provide a useful estimate of particles as a consequence of traffic emissions that penetrate into the building.
The formation of black stains in the presence of SVOCs ("ghosting"), or the emission of fine and ultrafine particles when indoor dust is in contact with warm surfaces are phenomena that have been repeatedly observed in indoor environments. It is unknown what the impact of these soiling events is, and whether in some cases they are wrongly attributed to outdoor sources.
Much is known about the aerodynamics of fine PM. The accumulation mode (0.1 - 1 μm), due to its size, displays low deposition rates, low re-suspension rates, and a high penetration efficiency through cracks and filters. Low deposition rates have different implications. Deposition will be a slow process, but it will occur eventually if particles are not removed. They will distribute evenly around the space, depositing far from the source, and will reach areas in walls and ceiling that are difficult to access. Low re-suspension rates, in combination with a small size that favours penetration into porous surfaces, will lead to difficulties with cleaning and irreversible soiling.
Less is known about what occurs after soiling. There is a significant disproportion between the detailed knowledge of the aerodynamics of fine particles, and what is currently known about the chemical effects of the most common particle types and the potential degradation of soiled (heritage) surfaces. The scarce evidence available is just enough to assess that DPM and other particles derived from combustion can have an active role in the degradation of materials beyond soiling. Considering the costs associated with cleaning, it is important to know if removal of deposited fine particles should be a priority. Risk assessment cannot be based solely on the spatial distribution and deposition rates of fine particles. There is a need for research into chemical interactions between the most common fine particulates (DPM and other combustion-derived particles) and different materials that represent indoor heritage surfaces.
Authors' information
JGB is a PhD candidate at the UCL Centre for Sustainable Heritage. His research focuses on CFD modelling of fine and ultrafine particulate matter in indoor heritage environments.
MS is Senior Lecturer in Sustainable Heritage at the UCL Centre for Sustainable Heritage and Course Director of the new MRes Heritage Science at the Centre. His research focuses on the development of new scientific tools and methods of study of heritage materials, collections and their interactions with the environment, particularly development and use of damage functions and integrated modelling of heritage collections. Presently, he is the Principal Investigator of the UK AHRC/EPSRC Science and Heritage Programme project Collections Demography (2010-2013) and a Co-Investigator on Heritage Smells! (2010-2013). In 2008, he co-coordinated the 8th European Conference on Research for Protection, Conservation and Enhancement of Cultural Heritage.
Abbreviations
DPM:

Diesel Particulate Matter
EC:

Elemental Carbon
I/O:

Indoor/Outdoor Ratio
MERV:

Minimum Efficiency Reporting Value
OC:

Organic Carbon
PEC:

Particulate Elemental Carbon
PM:

Particulate Matter
SVOCs:

Semi-Volatile Organic Compounds
TSP:

Total Suspended Particulates.
Authors' Affiliations
(1)
Centre for Sustainable Heritage, University College London, London
Copyright
© Grau-Bové and Strlič; licensee Chemistry Central Ltd. 2013
This article is published under license to BioMed Central Ltd. This is an Open Access article distributed under the terms of the Creative Commons Attribution License(http://creativecommons.org/licenses/by/2.0), which permits unrestricted use, distribution, and reproduction in any medium, provided the original work is properly cited.