Tephra, tephrochronology and archaeology – a (re-)view from Northern Europe
Received: 22 March 2013
Accepted: 10 May 2013
Published: 28 May 2013
Abstract
Volcanic eruptions are often, although by no means always, associated with a profuse output of fine pyroclastic material, tephra. While residence time in the atmosphere of the very finest of these particles can be substantial, the deposition of the bulk of volcanic ejecta can be considered instantaneous from a geological, archaeological, and evolutionary perspective. Often these volcanic products can be identified by various chemical and non-chemical means and if the eruption date is known, the occurrence of tephra from a given eruption in stratigraphic sequences provides a powerful means of dating such deposits, or of refining available dating schemes. Furthermore, the occurrence of tephra from the same eruption across sites, regions and in various types of depositional contexts (ice-cores, terrestrial, marine, cultural) holds the potential of linking and thus elucidating the tempi and causes of both environmental and cultural change. Recent years have seen considerable advances in tephrochronology studies, especially regarding the detection of macroscopically invisible micro- or cryptotephras. In parallel with the possibility of detecting hitherto invisible tephras over vastly increased areas, the overall potential of tephrochronology as a major dating tool for both palaeoenvironmental scientists and archaeologists is greatly expanded. The aim of this paper is not to be comprehensive, but to provide a brief and timely general review of tephra studies and their methodologies, and to make a case for better linking tephra research to archaeology, all from a primarily Scandinavian perspective. We argue that the identification of tephra in archaeological sediments should, in due time, become as routine as other types of geo-archaeological analyses, especially given that tephra cannot only act as a useful chronostratigraphic marker, but can also play a role in changing patterns of environmental and cultural change at the level of the site or the region. In order to move towards such integration, a series of methodological challenges have to be met. We outline some of these, and provide pointers as to how and where tephrochronologists and archaeologists can work together more closely.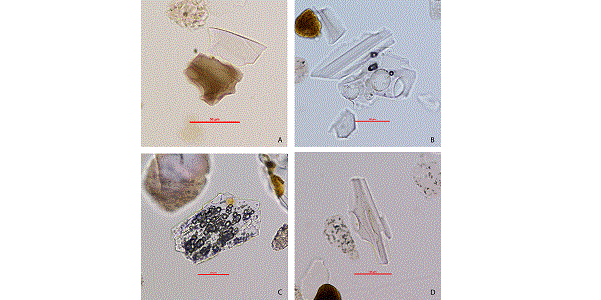 Keywords
Tephrochronology
Geochemical fingerprinting
Tephra
Archaeology
Chronology
Electron microprobe
LA-ICPMS
Introduction
The Law of Superposition and its actualization in the form of stratigraphy constitutes the foundation of archaeological dating, albeit usually in a relative rather than an absolute manner [
1
–
3
]. Although many characteristic features within a given stratigraphy (e.g. soil horizons, loess layers) can be used to anchor such sequences in time, the process or processes that cause the formation of such similar layers are often transgressive in time and/or space thus detracting from their general utility as dating and correlation tools. In contrast, the deposition of the loose, pyroclastic volcanic material ejected during a volcanic eruption (tephra) can be considered instantaneous from a geological, evolutionary, and archaeological perspective. The term tephra comes from Greek τϵφρα meaning 'ashes', although this is in many ways an unfortunate misnomer. Volcanic ash is decidedly not the product of organic combustion, but rather it is rock powder generated in an extremely high-powered environment where both native (surface) rocks as well as the magma connected to the eruption itself are torn asunder. Truly distal tephra particles are usually glassy and can retain their characteristic bubble-infused and sharp-edged form (Figure
1
). Note, however, that the shape, size, degree of vesicularity, and colour of tephra particles can vary substantially.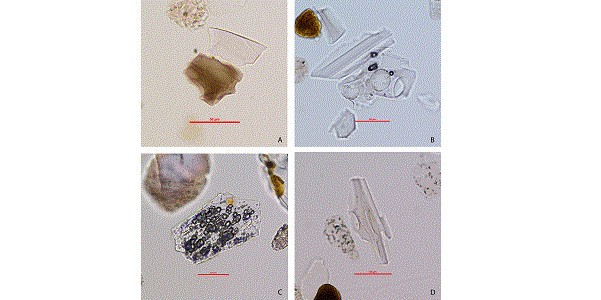 Tephra is usually further divided by size classes into ash (<2 mm), lapilli (2–64 mm), and bombs or blocks (>64 mm), the latter of which can reach considerable sizes. The focus of this review is on material at the lower end of this size spectrum and its use as an analytical tool in archaeologically relevant contexts as, first and foremost, chronostratigraphic markers and, secondarily, as possible causal elements in culture-historical change. While the very finest volcanic particles ejected as part of volcanic eruptions can have considerable residence times in the atmosphere as aerosols, the larger particles such as rock fragments, pumice, crystals, and glass tend to fall out already during or shortly after the eruption. They effectively form isochrons. Especially explosive eruptions are associated with a profuse output of such material, and the frequency of such eruptions throughout the Quaternary is substantial [4–6]. Nonetheless, tephrochronological research remains a young field of specialised study. Pioneering near-field work was carried out on Iceland in the first half of the 20th century by Thorarinsson [7], but it was as late as 1981 that the prospect of a superregional, far-field tephrochronology was first aired [8]. Scientists in the UK swiftly followed Thorarinsson's lead [9, 10], and thanks to the many Icelandic eruptions through the millennia [11, 12] and a vibrant and growing research community (see http://www.swansea.ac.uk/geography/research/environmentaldynamicsgroup/tephrainquaternaryscience/) there now exists a robust tephrochronological lattice for the Late Pleistocene and Holocene of the north-western Atlantic seaboard [e.g. [13–17] and references therein]. In central Europe, the botanist Firbas [18] suggested already in 1949 that tephra from the Late Glacial Laacher See-eruption could be used as a chronostratigraphic marker for the Allerød chronozone in Europe north of the Alps. This enthusiasm was mirrored by the archaeologist Schwabedissen's [19] remark on how this tephra layer likewise could be used in archaeological investigations both in the near- as well as the far-field of the eruptive centre. Yet, it was first in the 1980s that more extensive distribution maps for the Laacher See tephra were presented [20], and more recent still that such data are updated and made available interactively [21].
In general, tephrochronological studies have seen a steep rise over the last two decades (Figure
2
). This, we argue, is at least in part due to the development of improved protocols for the extraction of tephra from its surrounding matrix. This is especially relevant for distal occurrences, where volcanic particles are only to be found as crypto- or microtephras, i.e. where they are invisible to the naked eye and cannot be readily detected in the field. In addition, this rise is also the result of increasingly precise and accurate geochemical methods for identifying or 'fingerprinting' particles from particular eruptions. This is usually done via electron microprobe analysis or, occasionally, other analytical approaches. In brief, tephrochronology thus achieves its greatest utility if and when discrete visible or invisible layers of volcanic particles (a) originate from known-age and short-lived explosive volcanic events that (b) left a widespread deposit of particles, which (c) can be securely identified via petrological and/or geochemical methods. Knowledge of the source of the tephra is not strictly required and several important isochron markers (e.g. the Borrobol Tephra) are only known from distal occurrences. In this way, the study of far-field tephra occurrences also feeds back into the basic study of the eruption frequency/magnitude behaviours of volcanic systems, which in turn has important implications for risk assessments in relation to future eruption events [
16
,
17
]. Tephrochronology is most commonly used as part of Quaternary scientific studies of environmental change, and offers a unique and powerful way of dating and linking different sites and archive types (ice-cores, terrestrial, marine). If the aim is to make such studies of environmental change relevant to human societies the method attains its greatest utility if either reliable proxies of human activity can be identified alongside the tephra, or – better still – if the tephra itself can also be identified within relevant archaeological layers.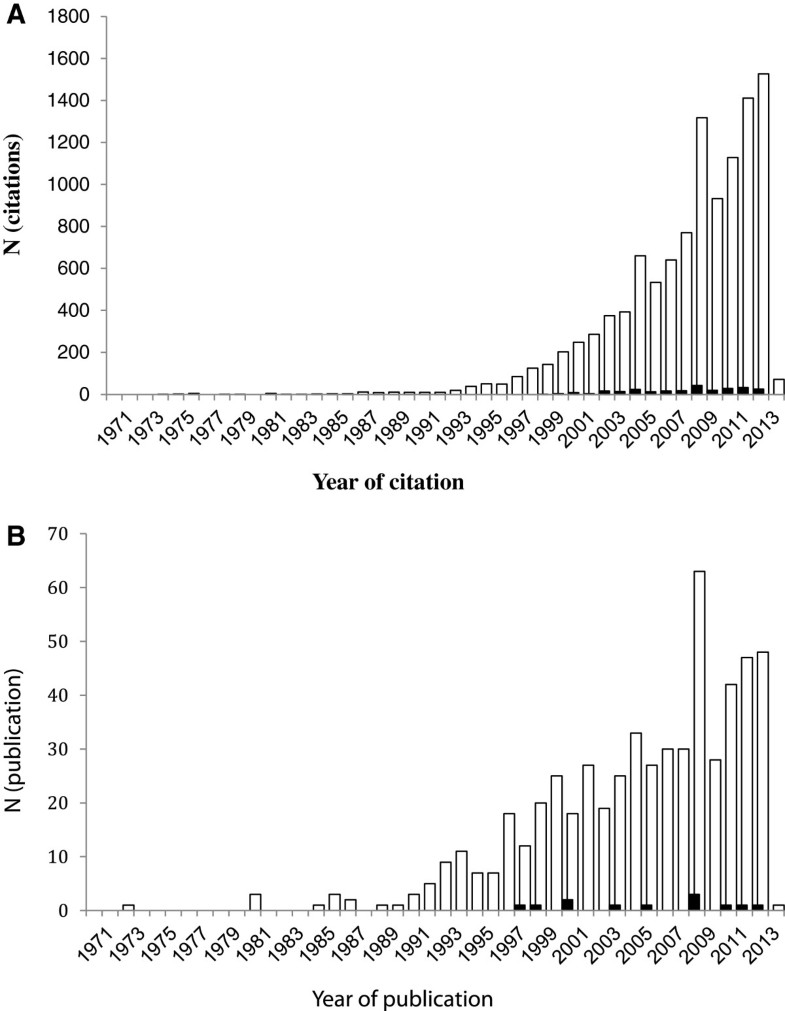 The volcanological background to tephrochronology as a method, attendant techniques, and regional applications have been summarised a number of times in the last decade [
22
–
29
], most recently and extensively by Lowe [
30
], whose magisterial review article fills no less than 46 pages. The aim of the present and rather shorter paper is therefore not to provide a comprehensive treatment of tephrochronology, but to present, discuss and highlight some of its strengths and limitations in relation to specifically archaeological applications. This paper is written from a primarily Northern European/Scandinavian perspective (Figure
3
); it is in this region that perhaps the longest tradition in tephrochronological research exists, where efforts to put into place regional tephrochronological lattices and cross-linkages between different volcanic zones are furthest advanced, and where exciting recent projects are beginning to apply tephrochronology to the study of culture-historical change [
31
–
41
]. Other regions, such as Alaska [
42
–
44
], Central [
45
–
48
] and South America [
49
,
50
], Papua New Guinea [
51
–
53
], Japan [
54
–
56
], as well as New Zealand [
57
,
58
] have equally rich tephrochronological records linked to archaeological issues. Whilst our choice of regional focus then is primary practical – we know the Northern European region best and it has a long, well-researched record of human occupation – we also believe that this area constitutes an ideal testing ground for elucidating the salient linkages between tephrochronological and archaeological research.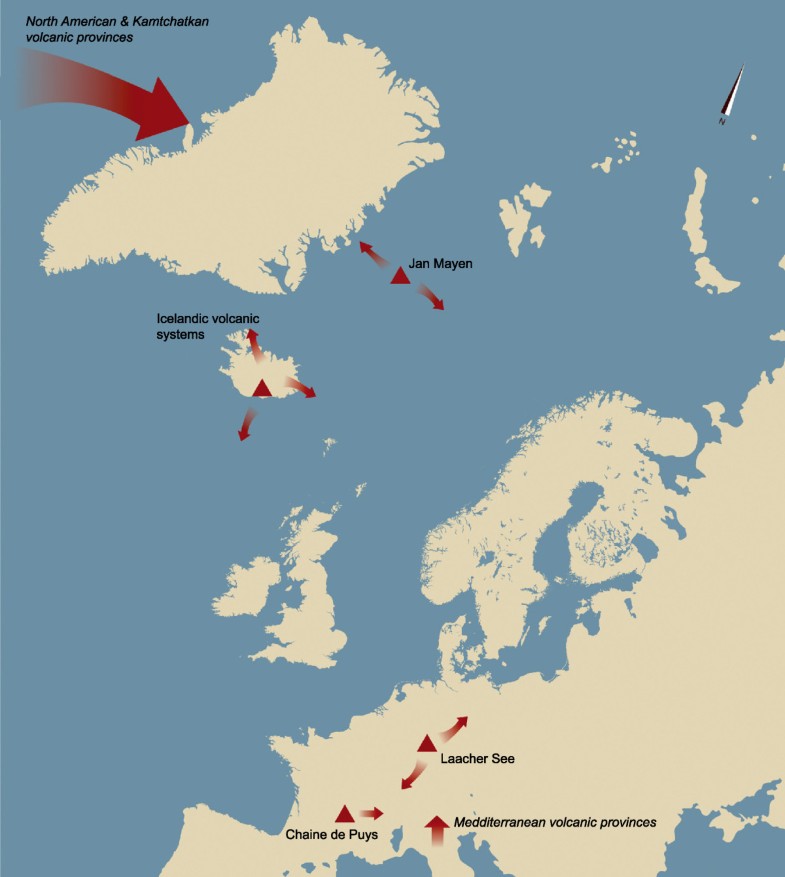 The basics of tephrochronology
Tephrochronology is the "use of tephra layers as isochrons (time-parallel marker beds) to connect and synchronize sequences and to transfer relative or numerical ages to them using stratigraphy and other tools" ([30]: 111). This section briefly describes the standard analytical protocols for tephrochronological analysis from field to laboratory. It is worth highlighting that at least the initial stages of sampling and sub-sampling are easily integrated with other types of fieldwork, e.g. sampling for pollen, diatoms or the like, or during standard archaeological excavation where samples can conveniently be taken in open profiles. As in any kind of environmental or archaeological fieldwork, profiles or cores should be described in the field, and any samples duly labelled. Sampling from open profiles is preferable, as sampling with a corer may twist, compact, or otherwise compromise the intactness of the targeted layers. In addition, the general layer structure and possible taphonomic disturbances can be better assessed already in the field when profiles of some length are exposed.
Once the core or block sample is taken, a variety of techniques for an initial identification of the presence/absence of tephra particles is available: magnetic susceptibility, remanent magnetization, X-radiography, scanning X-ray analytical microscopy, spectrophotometry, high-resolution micropetrography, high-resolution trace element analysis via instrumental neutron activation analysis (INAA), as well as less advanced measurements such as particle size distribution, total organic carbon, and loss-on-ignition (see references [28, 30] for details). A particularly useful initial range-finding technique is core scanning by X-ray fluorescence (XRF). This fast method has been reported to work well for detecting considerable (>1000 shards/cm3) spikes of especially basaltic tephras, but smaller tephra peaks of rhyolitic composition are less well detected [59]. XRF core scanning should thus be used in conjunction with the manual range-finding approach described below, and arguably has its greatest strength in allowing the identification of broad areas with high and mixed shards concentrations, i.e. as an exclusion tool.
Extraction protocols best suited for separating tephra particles form their surrounding matrix depend on the nature of said matrix. When dealing with ombrogenous matrices such as peats ashing alone or in combination with acid digestion usually suffices [29]. Current best practice for extraction of tephra from mineral-rich sediments is the physical density-separation method described by Turney [60] and further refined with important down-stream improvements by Blockely et al. [61]. This method is based on the initial concentration of shards in each sample via ashing and sieving, followed by flotation of particles in a heavy liquid, usually sodium polytungstate (SPT) at 2.5g cm-3. It is important to note that if tephra samples are prepared for geochemical analysis they should be neither ashed nor should they come into lengthy contact with corrosive chemicals, which has been shown to significantly but unsystematically alter the chemical composition of the glass shards. Such corrosion makes the correct geochemical identification and correlation of the extracted tephra difficult if not impossible and a modified extraction procedure needs to be followed [61]. The useful protocol summaries of Swindles et al. [29], Turney [60], and Blockley and colleagues [61] lay out the guidelines for these complementary methods.
As the search for tephra via physical separation can be time-consuming, initial subsampling bins should be chosen at range-finding intervals contingent on overall sequence length. For shorter, usually terrestrial stratigraphies, range-finding bins of 5 or 10cm are appropriate. Once tephra has been located in these bins, tighter sampling can commence at 1cm intervals. Even greater precision can be achieved if, for instance, varved lake sequences are investigated, where in principle seasonally differentiated tephra deposition can be elucidated [62].
A more detailed counting of shards, reported as shards/g or shards/cm3 sediment, follows the initial establishment of tephra presence. It is worth noting that true isochrones can reach shard concentrations of several thousands per g and still remain invisible to the naked eye. Once tephra peaks are securely identified and counted – often against a scatter canvas of occasionally rather substantial background occurrences – shard extraction can proceed. Shards are mounted in Canada balsam, Glycerol or Euparal™ depending on the amount of residual biogenic silica after extraction. Again, Blockley and colleagues conveniently describe this protocol, now widely used by researchers in Europe and elsewhere, in greater detail [61]. Already at the stage of identifying and counting, shard morphology as seen under an optical or scanning electron microscope (SEM) can be used in conjunction with the stratigraphic position of the sample to make tentative suggestions about the particle source. However, many eruptions produce similar-looking shards or are multi-phased thus producing a variety of shard types. Tephra isochrons containing many shards can also contain material from several eruptions closely spaced in age. Visual inspection alone is therefore never enough for a secure identification.
In order to correlate a given tephra deposit securely to others, and ideally to a known source, geochemical fingerprinting is used. The most common analytical procedure is to quantify the major elemental composition of the sample via an electron microprobe (EMP). Prior to the widespread availability of this technique, simpler and cruder methods such as heavy minerals counting and shard refractive index were used to identify particular eruptions. These techniques are still commonly encountered in studies whose primary focus is not tephrochronology, but where such an identification still serves the purpose of anchoring a given sequence in time (e.g. pedological and palynological investigations, e.g. [63–66]). When even the resolution of the EMP does not suffice to distinguish between the different eruptions of the same volcanic zone – as for instance the many Pleistocene and Holocene Icelandic eruptions [12] – laser ablation-inductively coupled plasma mass spectrometry (LA-ICPMS) is now being taken into use to investigate rare-earth element and trace elemental compositions [67, 68].
Tephrochronology and archaeology
Archaeologists have long been aware of the potential utility of tephra isochrons as dating tools. In addition, volcanic eruptions are regularly considered as prime movers or contributing agents in cultural changes documented in the archaeological record (see, for instance, [45, 69–72]). Yet, systematically looking for tephra – especially for cryptotephra – in archaeological stratigraphies is not or at least not yet part of the standard toolkit of archaeologists. The following section uses a series of case studies to highlight the problems with and potential benefits of such integration, and to emphasise some of the challenges when looking for and dealing with tephra deposits embedded in humanly modified or generated strata. Rather than comprehensively reflecting current work in tephrochronology, the case studies discussed here are intended to illustrate the potentials and pitfalls of tephra studies specifically in relation to or performed at archaeological sites. As Housley et al. note "the ability of cryptotephra to survive in archaeological contexts is not well documented" ([73]: 708–9), and each case study discussed here offers particular lessons and insights with regard to the preservation and detection of tephra layers and of, in particular, cryptotephra layers in archaeological sites.
Lessons learned and future challenges
Tephrochronology and, in particular, its cryptotephra extension are still young fields of specialisation. The chance of successful detection of cryptotephras relies above all on stable depositional conditions as found in, for instance, small-to-medium-sized lake basins that preferably lack complex and shifting in- and outflow channels [78]. Most archaeological sites are far from this in terms of depositional context, making the search for preserved tephra layers in such stratigraphies a risky venture. Yet, relatively few types of sites have been sampled, and the number of samples per site has generally been low. Detailed taphonomic observations coupled with closely spaced sampling, however, have demonstrated that there can be substantial variation in the preservation of tephras across short distances – both in environmental [78] as well as in archaeological contexts [93]. One of the lessons that can be learned from the case studies presented here is that multiple samples should always be obtained in as systematic a fashion as is possible. Samples from archaeological sites should, if at all possible, be multiple in order to assess layer intactness, and complemented by samples from nearby environmental contexts. It is our recommendation that such parallel sampling should follow a transect strategy from archaeological site (on-site/multiple features or sections) > archaeological site (off-site) > nearest lake/bog (margin) > nearest lake/bog (centre). Whilst costly such a strategy would maximise the chances of finding tephra, would allow environmental reference samples to be obtained, and would make it possible to arrive at both a site-specific as well as, eventually, a more general understanding of how and why tephra preserves in some places but not in others.
Once found, the analysis of tephras from archaeological sites should be handled following the established laboratory and analytical protocols. The interpretation of tephra distributions in and around a given site should be conducted as a collaborative effort between environmental and archaeological specialists. Natural processes alone can move tephra around in profiles, and even create false secondary layers either above or below the actual air-fall event strata [31, 78, 161]. Adding humans to the list of taphonomic agents will not make the interpretation of such layers easier, but it is worth stressing that tephra may, due to it being inorganic, provide a particularly useful (at times perhaps sole) dating tool in archaeological sequences with poor organic preservation.
Where community reference databases are already in place, all resulting data should be submitted to these. We see data sharing as a critical tool for furthering research, especially this kind of work that does not respect current national boundaries. Indeed, one priority for future work aimed at elucidating the relationship between volcanic events and the human past is the establishment of complementary databases on the societal and economic characteristics of the affected groups. Both disaster scientists and volcanologists have assembled sizable databases of volcanic eruptions as well as their impacts in recent times [4, 5, 162, 163]. No such databases exist for deeper historical let alone prehistoric times. If, however, the aim is to not only examine volcanic eruptions and their attendant tephra distributions as purely chronological tools, but also to consider the impacts of such events on the affected societies themselves, these databases must be structured around the societies themselves, not the eruption events. This is so, because (a) the effects of eruptions differ markedly in the near- and far-field [164], and (b) because the vulnerability that transforms an initially neutral geological event into a catastrophe is a complex, multivariate measure that is grounded at least as much in the social and historical parameters of the affected communities as in the geophysical parameters of a given event [165–167]. The finding and secure geochemical identification of a given tephra layer is a critical but merely an initial step.
Conclusion
Precise and accurate chronologies are paramount for studies of past environmental and cultural change. Tephrochronology constitutes a powerful dating tool and "tephra studies have become increasingly important in Quaternary research as the need to provide high-resolution palaeoenvironmental or archaeological records, and to synchronize and date such records, has become an urgent focus" ([30]: 107–8). To date, the vast majority of (crypto-)tephrochronological research has been and still is conducted as part of environmental science, and it is made relevant to archaeology via very effectively providing better-resolved environmental backdrops to cultural changes (e.g. [168]). Yet, to fully unlock the potential of tephrochronology to directly link environmental and cultural sequences, future work should, in our opinion, attempt to more systematically and routinely look for tephra also within archaeological stratigraphies. Whilst recent tephra research projects such as the UK-based, NERC-funded RESET initiative, or the LaPaDiS project funded by the Danish Council for Independent Research | Humanities do contain archaeological work packages, they are, somewhat paradoxically, aimed at linking ancient deep time archaeological records to dated volcanic eruptions via tephra analyses. Tephras of such age are difficult to find even under the best of circumstances. Adding to this, humans are by all accounts effective taphonomic agents, and finding intact tephra layers in occupation sites is a long, albeit not impossible shot [33, 125]. Projects centred on deep prehistory tend to naturally include strong environmental and/or geological elements, so adding tephrochronology to the methodological repertoire makes good sense. Projects concerned with more recent periods should, we recommend, follow this lead.
One of the aims of this review has been to outline a programme for more collaborative work between earth scientists interested in tephra and archaeologists, and to make an argument for the use of (crypto-)tephra analysis in direct relation to archaeological sites or features. A more balanced integration of tephrochronology and archaeology should include more recent periods as well as later prehistory and the deep times of the Palaeolithic. The historical and Holocene record of volcanic eruptions is better understood than its Pleistocene counterpart, and all things being equal, younger tephras should be better preserved. Joint tephrochronological/archaeological research in historic periods has the potential to provide key proof-of-concept case studies for this emerging field. Importantly, numerous researchers also argue that eruptions and their attendant tephra fallout have had important culture-historical consequences, also in historical times (e.g. [
169
–
172
]). Tephras do, of course, play a major role in archaeological work on Iceland and the North Atlantic, in Kamchatka, and in other areas known to be volcanically active [
37
,
173
–
175
], but even there, archaeological stratigraphies are rarely investigated for cryptotephras – despite the fact that numerous hypotheses about the direct impact (or otherwise) of past eruptions on the affected societies have been aired [
173
,
176
–
178
]. Yet, finding such temporal markers either in addition to known visible layers or in the absence of previously recognised layers could unlock a tremendous analytical potential:
(1)

They would allow many more sites to be dated both accurately and precisely.

(2)

They would allow both accurate and precise terminus ante/post quem correlations of local culture-historical sequences over potentially vast expanses of space.

(3)

They would facilitate detailed investigations into the potential culture-historical impact of the eruptions themselves or other "collateral" ([179]: 59) environmental changes around them.

(4)

In turn, they would also feed back into volcanological research by adding to the total record of known eruptions and their attendant tephra distributions.
Tephra is well known to travel great distances – even across continents [180] – and could thus serve to link not only volcanic zones but also to bind cultural provinces (e.g. the Viking/Norse heartland in Scandinavia, Iceland, Greenland, Faroe Islands and the Atlantic seaboard of the USA; Late Glacial Europe, etc.) together internally, and with each other. The identification of such potential marker horizons in both archaeological and palaeoenvironmental sequences then offers the exciting opportunity for high-resolution comparative studies of the relationship between human societies and environmental changes that avoids the methodological uncertainties otherwise associated with such studies [181].
Whilst rare on a human time-scale, volcanic eruptions are common occurrences over geological, evolutionary, and archaeological time. The human lineage has a strong association with volcanic landscapes [182], and tephrochronology already is a powerful tool in dating the very earliest of archaeological and palaeoanthropological remains [183]. The possibility that larger eruptions may have significantly affected the course of human evolution globally [184–189] and regionally [33, 190, 191] alone warrants a tight integration of tephrochronology and archaeology. Yet, this review has underlined that the archaeological utility of tephra markers goes well beyond their presence in the geological matrices containing cultural material and well beyond early prehistory into historic times – especially when extended to also cover cryptotephras. In doing so, this review has attempted to summarise and evaluate some of the recent research at the interface between archaeology and tephrochronology. At the same time this paper also flags up the need for a tighter and more systematic integration of these fields of study. Despite the remaining methodological challenges and problems outlined by Lowe [30] the protocols of tephrochronology are now so well-established and mature that the time is right to experiment with sampling from a wider range of not only natural but also cultural deposits (and, importantly, to also report when and ideally why sampling returned negative results). Any structure that captures and preserves airborne material in some form of stratigraphic order – wells, ditches, multi-phase burial mounds, shell-middens, house floor successions, etc. – potentially preserves traces of volcanic ash. Archaeology can play an important role in exploring the range of responses of human societies to climate change in the past, but securely linking environmental to cultural archives is of fundamental importance in order to differentiate between just-so-stories of environmental impacts and the actual, but usually complex causal chains of culture change in the wake of climatic and environmental disturbances [71, 192–194].
Abbreviations
LA-ICPMS:

Laser ablation-inductively coupled plasma mass spectrometry
INAA:

Instrumental neutron activation analysis
XRF:

X-ray fluorescence
SPT:

Sodium polytungstate
SEM:

Scanning electron microscope
EMP:

Electron microprobe
LST:

Laacher See-tephra
LSE:

Laacher See-eruption
NERC:

Natural Environment Research Council
RESET:

Response of humans to abrupt environmental transitions
SIRM:

Saturation isothermal remanent magnetization
LaPaDiS:

Laboratory for Past Disaster Science.
Declarations
Acknowledgements
FR and MBT are funded through the Danish Agency for Science, Innovation and Technology's Independent Research Council | Humanities grant 11–106336. This paper arose from a joint presentation at the SMIA X Scientific Methods in Archaeology meeting, Aalborg University, Esbjerg (Denmark), September 27th-29th, 2012. We gratefully acknowledge the suggestions of two anonymous reviewers who provided important and constructive comments. All omissions and errors remain ours.
Authors' Affiliations
(1)
LaPaDiS – Laboratory for Past Disaster Science, Department of Culture & Society (Materials, Culture & Heritage), Aarhus University, Campus Moesgård, Højbjerg, Denmark
(2)
Moesgård Museum, Department of Archaeological Science & Conservation, Højbjerg, Denmark
Copyright
© Riede and Thastrup; licensee Chemistry Central Ltd. 2013
This article is published under license to BioMed Central Ltd. This is an Open Access article distributed under the terms of the Creative Commons Attribution License (http://creativecommons.org/licenses/by/2.0), which permits unrestricted use, distribution, and reproduction in any medium, provided the original work is properly cited.