Research article
Open Access
A timeline for the introduction of synthetic dyestuffs in Japan during the late Edo and Meiji periods
Received: 9 January 2018
Accepted: 22 March 2018
Published: 3 April 2018
Abstract
A widespread belief among scholars and connoisseurs of the Japanese color woodblock print (nishiki-e) holds that synthetic dyes were imported from the West in the 1860s, and soon came to be used for all nishiki-e colorants during the Meiji period. These "cheap imported aniline dyes" are widely described as "gaudy", "garish", and "strident", and thought to stand in sharp contrast to more muted "natural" colorants that preceded them. This study calls this narrative into question through an analysis of the colorants of nishiki-e from 1860 until 1900, using surface-enhanced Raman spectroscopy coupled with micro-Raman, XRF and fiber optic reflectance spectroscopies. The results show that the introduction of synthetic dyes was gradual and selective, and that most of the customary colorants of the late Edo period continued in use. The results revealed a series of key turning points after 1860: (1) In 1864, the purple dye rosaniline became the first synthetic dye to be used in nishiki-e, at first in combination with Prussian blue for a more bluish color. From 1875, it was usually mixed or replaced with methyl violet for a stronger purple. (2) In early 1869, a dramatic and until recently unrecognized transition took place, from the longstanding use of safflower as the dominant red, to its total replacement by imported cochineal carmine. Carmine remained the primary red for the next two decades, often combined with vermillion. (3) In 1877, eosine appeared as the first synthetic red dye in nishiki-e, used alone for pink, and in mixture with carmine for red. (4) Finally, from 1889, a succession of red naphthol dyes of more striking color appeared. Just about this time, however, a tendency to more restrained use of color and more painterly effects began to emerge in nishiki-e, and with the exception of a burst of dynamic color in prints depicting the Sino–Japanese War (1894–95), the uses of strong colors in Meiji prints receded. A final key finding is that colorants were often combined, either through mixture in a bowl or on the printing block, or by two-step overprinting.
Keywords
Japanese woodblock prints nishiki-e ukiyo-eSynthetic colorantsAniline dyesEosinNaphthol redsInks for chromolithographyMicro-Raman spectroscopySERS
Introduction
Descriptions of Japanese color woodblock prints (
nishiki
-
e
) of the Meiji period (1869–1912) inevitably draw attention to their bright colors (as can be seen in Fig.
1
), which are uniformly characterized as the result of new synthetic dyes imported from Europe. A recent reference work in English on Japanese woodblock prints describes "a new and unexplored palette" that arrived "from the early 1860s" and was popular by the 1870s, asserting that "with the 1880s aniline dyes had practically replaced the older vegetable and mineral colourants". The dyes themselves are characterized as "imported aniline colours, including harsh yellows, greens, purples, and red, with red so prominent that they have also been labelled, somewhat pejoratively,
aka
-
e
('red pictures') [
1
]".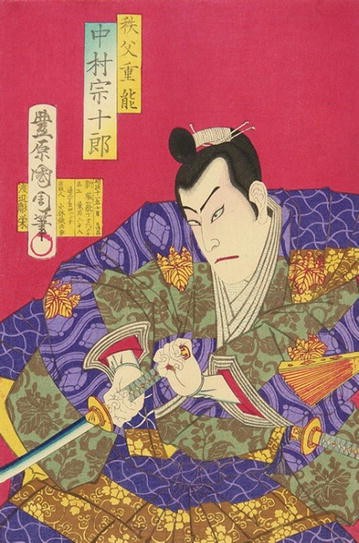 Meanwhile, a leading contemporary Japanese scholar of ukiyo-e describes a new aniline red in Meiji prints as "a garish (dogitsui) red that by today's standards could never be considered tasteful, but it… became a trendy sign of a new era, suddenly becoming a dominant color that worked to paralyze the color sensibilities of the people [2]". Although some have assessed these new colors in a more positive light, such as Meech's description of "vibrant colors eminently suited to the bright sunshine of Meiji enlightenment" [3] most writings on ukiyo-e in both Japanese and English continue to depict a wholesale replacement in the 1860s of older vegetable dyes with new synthetic colorants.
This study aims at tracking the introduction of synthetic colorants into Japan through the scientific analysis of a sample of nishiki-e woodblock prints covering most years from the 1860s through the 1890s. The high rates of survival, good preservation, and exact dating make these prints ideal candidates for our purposes. This makes it possible to establish a reliable timeline for the introduction of new colorants, and to enable a scientifically and historically informed reconsideration of the ways in which they have been characterized in the past.
Methods
The woodblock prints
A collection of 57 woodblock prints was assembled by Henry D. Smith II specifically for this study, on the basis of date of publication. The collection covers the time period from the opening of the port of Yokohama to international trade in 1859, until 1898 when the color woodblock medium was in decline. Four prints belonging to the Metropolitan Museum of Art collection (JP3277, JP3259, JP3272, JP3233, dating respectively to September 1877, May 1881, May 1887 and March 1889) were also included in the study. All of the prints in this study can be dated with precision to year and often to the month of issue, allowing us to trace with accuracy the use and introduction of European dyestuffs.
The complete list of prints in the collection can be find in Additional file 1: Table S1.
Reference dyestuffs
Safflower red was obtained by alkaline extraction (0.1 M KCO3 water solution) from a cotton fabric dyed with the dried petals of the flower. Carmine was obtained from the swatches of an early twentieth century Winsor and Newton catalogue, previously analysed by HPLC and surface-enhanced Raman spectroscopy to confirm the identity of the colorant. Eosin Y, pararosaniline, crystal violet (CV) and Ponceau 2R references were purchased from Sigma Aldrich. Rosaniline Hydrochloride was obtained from Eimer and Amend. Methyl violet (MV) was purchased from Fluka Chemical Corp. Cotton scarlet and brilliant scarlet were obtained from Standard Colors. Samples of CV applied on paper were prepared in the past at the Metropolitan Museum of Art laboratories exposing them to different light doses by means of transmission step wedges.
Surface enhanced Raman spectroscopy
The prints were primarily investigated by surface-enhanced Raman spectroscopy (SERS). The silver colloid was prepared by microwave supported reduction of Ag2SO4 in the presence of glucose and sodium citrate [4]. The colloid was concentrated 5 times by centrifuging 1 ml of colloid and replacing 950 µl of the supernatant liquid with 150 µl of ultrapure water.
Samples were obtained from the prints by removing fragments of single paper fibres (~ 100 µm in length) using a tungsten needle and/or tweezers. To minimize the damage to the prints, fibres already raised from the surface or partially detached were selected. SERS analysis was carried out following a multistep protocol described in details elsewhere.1 This approach was fundamental for the detection of dyestuff mixtures (such as carminic acid and eosin). Briefly, the sample was treated with HNO3 (~ 1 µl of 1% solution in water) and then 2 µl drop of colloid was added. After the SERS spectra were collected, the colloid and acidic solution were removed from the sample. In the second step, the same sample was exposed to HF vapour. After the treatment, a 2 µl drop of colloid was delivered onto the sample, followed by ~ 0.4 µl of 0.1 M KNO3 solution to induce aggregation.
SERS spectra were acquired using a Bruker Senterra Raman instrument, exciting the sample at 488 nm (Spectra Physics Cyan) through a 20× long working distance objective, keeping the laser power on the specimen below 0.2 mW. The laser beam was focused inside the silver nanoparticle drop. All the spectra were acquired for 30 s, with a resolution of 3–5 cm−1.
Complementary techniques
Various other non-destructive spectroscopy techniques were employed in the course of this study to obtain the full characterization of the various coloured areas.
The same Raman instrument described previously was used to perform micro-Raman spectroscopy. The 785 nm diode laser was focused through a 50× long working distance objective, with a laser power on the sample kept below 5 mW. This method gave good results with inorganic pigments but it also allowed us to identify synthetic naphthol colorants.
Micro X-ray fluorescence (micro-XRF) measurements were performed using a Bruker ARTAX 400 instrument by means of an unfiltered Rh radiation at 50 kV, 700 μA, with a 1 mm collimator, and with 120 s live-time acquisition.
Fiber optics reflectance spectroscopy (FORS) was performed with an Ocean Optics USB 2000+ UV–VIS-ES spectrometer, employing a halogen light source (T1300-UV–VIS), both coupled with 300 µm core UV/SR fibers. The distance between the head of the fiber and the sample was kept constant at 1 mm. The reflected light was acquired in the 350–850 nm range for 10 ms.
Results and discussion
An extensive survey of the pigments used for Japanese prints spanning the period 1848–1898 was carried out with a multi-analytical approach. Micro-XRF [5], micro-Raman [6] and FORS [7] were performed non-destructively directly on the prints, while SERS [8] was performed on fragments of paper fibres detached from the surface, as described in the previous section. The complete list of the pigment materials identified is reported in the Additional file 1: Table S2; additionally, a previous published article has been focused on the study of the green and yellow areas [9]. In the present work we are going to focus our attention on the identification of organic colorants. The new findings confirm, complete and deepen Atsuka Yamato's seminal unpublished study on the same subject [10].
Conclusions
Our goal was to establish a timeline for the introduction of synthetic organic dyes into Japanese nishiki-e color woodblock prints from the final decade of the Edo period (1600–1868) through the first three decades of the Meiji reign (1868-1912), when the medium was at its historical peak. By combining SERS microanalysis with non-destructive micro-XRF, micro-Raman and FORS, we were able to build a timeline accurate to the year and often to the time of year for the introduction of these new dyes that were at the forefront of the global "color revolution".
Our basic finding is that, contrary to the widespread notion that aniline dyes suddenly replaced "traditional" colorants soon after the opening of Japan to international trade in 1859, the process was gradual and dye-specific, and that the overall impact of these new colorants has been exaggerated, with most of the existing dyes continuing in use.
The arrival in Japan of the revolutionary new aniline textile dyes that were triggered by William Henry Perkin's discovery and subsequent manufacture of purple "mauveine" in 1856 are documented earliest for in the region of Takasaki, a silk-producing region north of Edo-Tokyo, probably no earlier than 1863 [40], notwithstanding an undocumented report of dyeing with aniline purple in Kyoto in 1862 [41]. Our finding of rosaniline (magenta) in a print of the second month of 1864 is congruent with this date and suggests that this dye was probably obtained by woodblock printers from foreign merchants in Yokohama.
We also found that the reddish magenta was always used in mixture with Prussian blue, thus continuing a long-standing practice by which purple was achieved by mixing the dominant safflower red with various blue dyes, also including dayflower and indigo.
Meanwhile, by far the most striking import of a foreign colorant was not a modern chemical product, but rather the well-established and prestigious red insect dye from the cochineal insect of Mesoamerica, introduced to Europe in the early sixteenth century and widely used for dyeing both silk and wool, and in the form of carmine lake for oil paintings. In early 1869, the second year of Meiji, cochineal carmine suddenly replaced safflower as the dominant red in nishiki-e prints, continuing for two decades until 1889.
The next synthetic dye after magenta in 1864 was methyl violet in 1875, creating without mixture an assertive purple that became widely used (possibly substituted by the similar crystal violet from 1883), and the first aniline dye to add a distinctly new color to nishiki-e. Next came eosin in early 1877, used alone for its distinctive bright pink hue (perfect for cherry blossoms) and as an additive to cochineal carmine, perhaps to render it more bluish.
Overall, however, the most dramatic impact of these first changes was less in the color qualities of the new imported colorants but rather in the quantity with which they could be used, because of high tinting strength relative to cost, and an ease of printing that probably reduced labor costs. This was true above all of the advantage that carmine had over safflower, resulting in an immediate and sharp increase in the sheer area over which cochineal red was applied from 1869 on, most conspicuously in solid red backgrounds (cf. Figs. 1 and 7), or in wide bands of red gradation down from the upper edge or up from the horizon. Such uses were known in the era of safflower red, but were reserved for luxury editions given the cost of the dye and the effort required by numerous over-printings to achieve a deep color.
It would not be until 1889, two decades into the Meiji period, that synthetic organic dyes truly worthy of such common epithets as "harsh" and "garish" appeared in the form of naphthol "acid red" dyes from 1889. As it happened, however, it was just at this time that a new tendency was emerging in nishiki-e, in the direction of a more painterly feel, eliminating solid backgrounds and bands of gradation for a lighter, more modern touch. The new acid reds were used but in more restrained ways, as accents rather than broad swaths.
In broader historical perspective, the changes in nishiki-e colorants in the Meiji period appear considerably less dramatic than usually assumed. A broad shift to more light-fast and saturated colorants was already underway from the 1820s, given a sudden boost with the introduction high-quality low-cost Chinese-produced Prussian blue in quantity after 1829 that really did constitute a color "revolution" in the landscapes of Hokusai and Hiroshige [42]. The sudden availability of similarly high-quality low-cost cochineal carmine on the global market from 1869 was also dramatic, but less of a revolution in the quality of the red than in the abandon with which it could be printed. Our results have shown that perhaps the single greatest color change in Meiji was rather for purple, always a challenge before synthetic dyes became available.
A further key continuity from Edo to Meiji was the persistence of all the same "traditional" colorants used in nishiki-e since the 1830s with the exception of safflower and dayflower blue, both fickle colors prone to fading that could not survive under the brighter light of Meiji.
Our results suggest a range of new approaches to the study of Meiji prints. Many questions remain about the costs of colorants and their availability on world and local markets, and about the ways in which printers varied their techniques to make the most of available materials. The results also suggest that rather than condemning "Meiji red" as an aesthetic disaster, more attention should be paid to indigenous meanings of red as the color of festivity, sacrality, and healing powers, as well as a manifestation of the power of the new Meiji state to mobilize those traditional sentiments.
Footnotes
1
Forthcoming article: Cesaratto A. et al. 'Sample treatment considerations in the analysis of organic colorants by surface-enhanced Raman scattering. Part II: synthetic dyes'.
Abbreviations
SERS:

surface enhanced Raman spectroscopy
XRF:

x-ray fluorescence spectroscopy
FORS:

fiber optic reflectance spectroscopy
CI:

Colour Index
Declarations
Authors' contributions
The prints selected for analyses were assembled and dated by HDS. XRF, Raman SERS and FORS data was collected by YL and AC. AC prepared the manuscript. HDS and ML revised it. All authors read and approved the final manuscript.
Acknowledgements
The authors thank John Carpenter and Jennifer Perry (Metropolitan Museum of Art) for providing access to the MMA collection of Meiji Japanese prints.
Funding
AC is indebted to the Andrew W. Mellon Foundation for an Andrew W. Mellon fellowship in Conservation Science. YL was supported by the Advanced Interdisciplinary Innovation Project of Sichuan University (skqy201216) to conduct a period as visiting scholar at the Metropolitan Museum of Art.
Publisher's Note
Springer Nature remains neutral with regard to jurisdictional claims in published maps and institutional affiliations.
Open AccessThis article is distributed under the terms of the Creative Commons Attribution 4.0 International License (http://creativecommons.org/licenses/by/4.0/), which permits unrestricted use, distribution, and reproduction in any medium, provided you give appropriate credit to the original author(s) and the source, provide a link to the Creative Commons license, and indicate if changes were made. The Creative Commons Public Domain Dedication waiver (http://creativecommons.org/publicdomain/zero/1.0/) applies to the data made available in this article, unless otherwise stated.
Authors' Affiliations
(1)
Department of Scientific Research, The Metropolitan Museum of Art, New York, USA
(2)
School of History and Culture, Center for Archaeological Science, Sichuan University, Chengdu, People's Republic of China
(3)
Department of East Asian Languages and Cultures, Columbia University, New York, USA